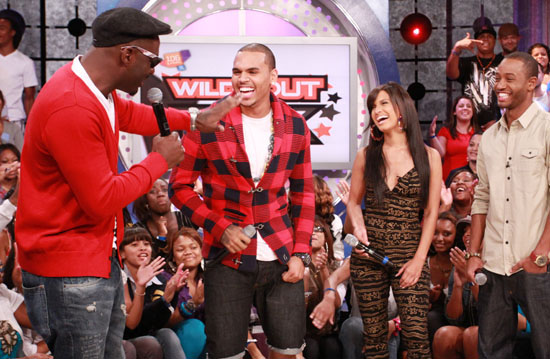 Chris Brown and his "Takers" co-star Idris Elba laugh it up with BET personalities Rocsi and Terrence J as they tape an episode of 106 & Park Tuesday (Aug 24) in New York City. "Takers" also stars T.I., Michael Ealy, Hayden Christenssen, Zoe Saldana and more, and is in theaters now.
While on BET's 106 & Park, Chris Brown touched on a number of topics, answered fan questions and cleared up two things. For one, he said his tears for his idol Michael Jackson at this year's BET awards were 100% real and un-staged. He also put rumors of him and Usher going on tour together to rest, adding that a joint-tour with the "OMG" singer could possibly happen in the future.
"At first we were talking about it, but I think maybe something in the future. But right now, I'm just doing the whole Chris Breezy thing,"
When asked about why exactly he broke down at the BET Awards during his tribute performance to the King of Pop, Chris said:
"A lot of people don't know, I was going to see Michael Jackson the day he died. I was on my way to the Staples Center to see him [the day he died] … When I heard 'Man in the Mirror,' the words started speaking to me in my personal life. It just touched me. It wasn't fake. I know people were trying to put extras on it, but everything was genuine. That was my ultimate apology, hands down."
We believe you Chris!!
Peep the video footage from the entire interview (over 12 minutes) below:
Be the first to receive breaking news alerts and more stories like this by subscribing to our mailing list.