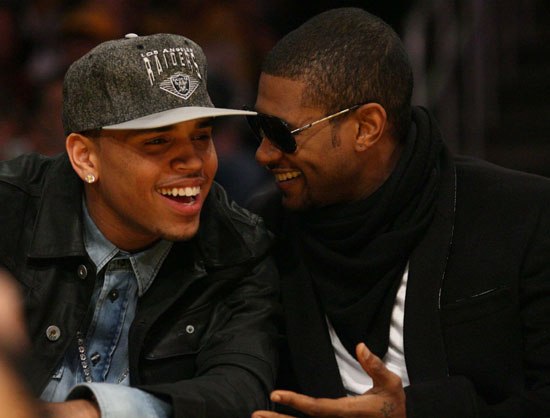 Those of you excited about Chris Brown and Usher hitting the road together in the near future might not want to get your hopes up so soon, as plans aren't "officially official" just yet according to Usher's camp.
A few weeks ago the two R&B stars hit the stage together in Jamaica during Usher's performance at the Reggae Sumfest, which left folks wondering where the pair would take their collaboration efforts from there. And earlier this week, producer Bryan Michael Cox turned that wonder into excitement when he (prematurely, of course) mentioned in a YouTube video that Usher and Chris Brown would be going on tour together. He later took back his statement though, adding that he didn't know for sure if Brown and Usher would be co-headlining a tour.
But it didn't stop there.
Shortly after B. Cox supposedly let the cat out of the bag, Chris Brown himself asked his Twitter followers what they thought about him going on tour with his big bro Usher, who put out his own tweet around the same time asking his followers who they thought he should perform live with.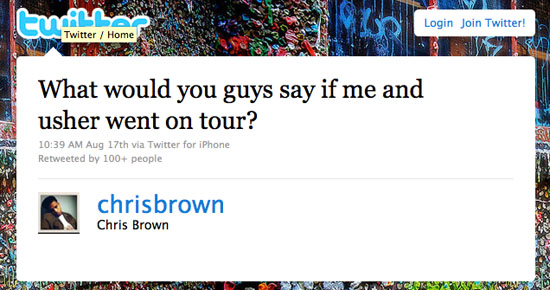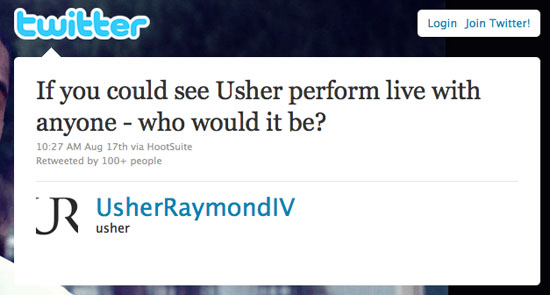 But even though both Usher and Chris are playing around with the idea (which is being met with a lot of excitement and anticipation) reps for both singers say that plans for a joint tour have yet to be finalized or confirmed:
"There are no plans at this time for Usher and Chris Brown to tour together," reps for the 31-year-old singer said. Brown's reps said ditto with the statement: "There is no confirmed Chris Brown and Usher tour at this time."

Source: CNN
We think an Usher/Chris Brown tour would be frikkin' EPIC!!!
What do you think?

Be the first to receive breaking news alerts and more stories like this by subscribing to our mailing list.