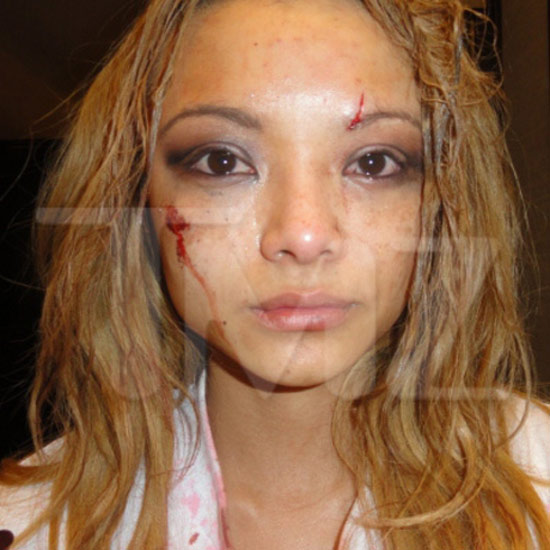 Pseudo celebrity Tila Tequila ran into quite a bit of trouble at a recent concert in Illinois that resulted in her taking some serious bruises and cuts to the face!
According to TMZ, Tila claims she was performing at an event called the "Gathering of the Juggalos" when all of a sudden a crowd of over 2,000 people went totally bizerk and started to attack her with various objects.
Here's her side of the story:
"I went onstage and immediately, before I even got on stage, DUDES were throwing HUGE STONE ROCKS in my face, beer bottles that slit my eye open, almost burnt my hair on fire cuz they threw fire crackers on stage, and they even took the sh*t out of the port-0-potty and threw sh*t and piss at me when I was onstage.

"These people were trying to kill me.  So then after the last blow to my head with the firecracker they threw at me exploded, my bodygaurd and the other security grabbed me and ran as fast as they could to the shitty trailor.  Since their security SUCKS, the 2 thousand people ran after us, trying to kill me.  They almost got me so they finally reach the trailor, blood all over myself, cant stop bleeding, then all of a sudden, all 2 thousand people surround the trailor and busts the windows!!!  Even the guys INSIDE with me were shaking!  Their hands were shaking cuz they were so scared!  So 3 guys inside the trailor had to grab a table and push it over the broken windows and grabbed all the chairs they could find so hold the people from outside back.  It was scary as hell!"
Police confirmed that they responded to the scene…however no other details were given on the matter.
Knowing Tila though, she probably provoked the already drunk and rowdy crowd!!
Be the first to receive breaking news alerts and more stories like this by subscribing to our mailing list.