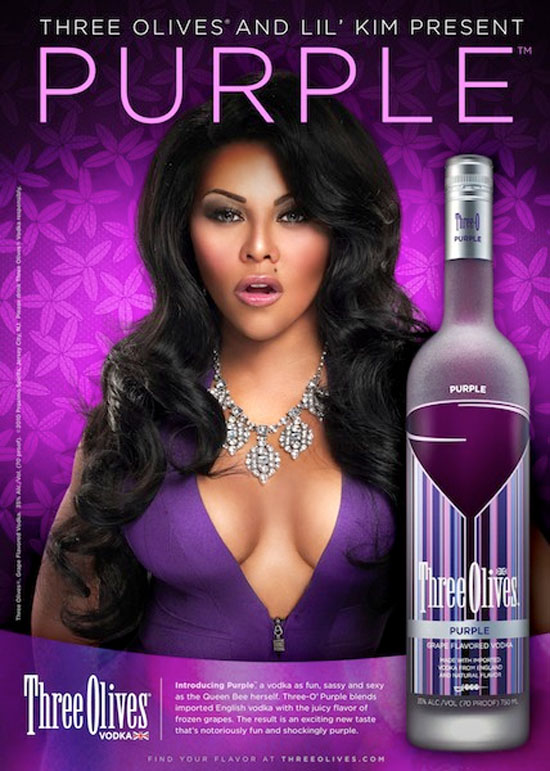 Rapper Lil Kim shows off her "O-Face" in a newly reelased promotional ad for Three Olives Vodka's new grape-flavoured liquor!
The Legendary femcee has reportedly teamed up with Three Olives to launch a new grape-flavoured liquor with the vodka company called "Three-O Purple." Kim is their first celebrity endorser and had this to say about being the face of a new brand of liquor:
"Since I'm Queen Bee and purple is the color of royalty, I'm thrilled Three Olives has asked me to bring my flavor to the sexy 'O-Face' campaign for their new Purple vodka!"
Three-O Vodka describes Lil Kim's liquor as "fun, sassy and sexy as the Queen Bee herself" and says that it's a dynamic blend of imported English Vodka and juicy, frozen, crushed grapes.
Elwyn Gladstone, VP of Marketing for Proximo Spirits, spoke on the company's excitement to have Lil Kim on board:
"A perfect match for our latest flavor, Lil' Kim is the personification of the sassy, fun and confident brand that Three-O strives to embody. We are so delighted to welcome Kim to the Three-O family, and look forward to introducing Three-O Purple to her dedicated fan base."
Three Olives also has other flavors in addition to Purple, including Vanilla, Chocolate, Root Beer, Cherry, Watermelon, Grabe, Bubble, Berry, Mango, Citrus and many more. The liquor brand's "What's Your O-Face?" campaign will include a series of promo ads run nationwide, along with in-store merchandising.
We guess Lil Kim can hold being the first female rapper to endorse a brand of liquor over Nicki Minaj's head now… shame.
Your thoughts?
Be the first to receive breaking news alerts and more stories like this by subscribing to our mailing list.