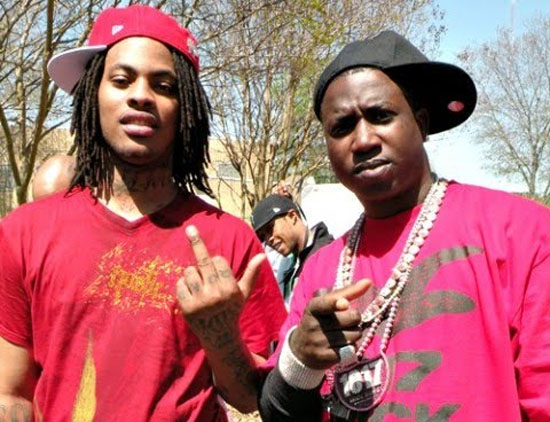 At one point, Bricksquad rappers Waka Flocka Flame and Gucci Mane were once inseparable. But now according to Waka himself, things have changed!
Waka Flocka Flame is on the verge of releasing his debut studio album Flockaveli and sat down with our friends over at VIBE for an exclusive interview about just that and more, including his relationship with Gucci and Nicki Minaj after they fired his mom Debra Antney as their manager earlier this year.
Continue reading to see what the "O Let's Do It" rapper had to say about Nicki Minaj and Gucci Mane firing his momz and whether or not she supported his career from the get-go…
Your mother Debra Antney was managing both Gucci and Nicki Minaj at one point in time, but was she always supportive of your career?
My mom was always there for me. She's a real understanding person, but it was always about tough love. You can't get no tighter than family. But when it's business, I'm not her son. There's no special treatment or anything. When I wasn't working, she wasn't even fuckin' with me in music. [Laughs]. I had to put in work to get her attention. She told me she wasn't putting money into a street dude. So I had to change up my plans.

Do you know why Gucci and Nicki decided to part ways with your mom?
I can say when you start getting hot, there are a lot of people that get in your ear. I call that the devil. It'll turn you against the people that helped you. They must have just felt like they needed a change. Maybe they felt like other people can take their career somewhere else. I don't know. Just like LeBron going to the Heat. I ain't mad, though, or got problems with anybody. Moms is good; her bills are paid.

Has the split affected your relationship with Gucci?
Yeah, all the way… All the way. I ain't got beef or anything but it has changed.

So what's your relationship like now?
There is none. We don't talk anymore.

What about with Nicki?
Nicki is still my homey, though. I got her number and can call her whenever. My momma ain't got no problems with her or anything either. Let's make that clear.

Source: VIBE.com
Hmm… we wonder if Gucci firing Waka's mom has postponed that whole Bricksquad Hip-Hop group Gucci Mane was putting together with himself, Waka and OJ Da Juiceman?
Be the first to receive breaking news alerts and more stories like this by subscribing to our mailing list.