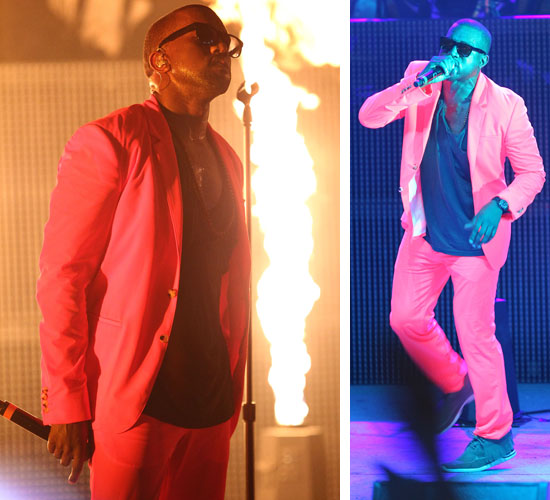 Earlier this week we posted video footage of rapper Kanye West (rocking a fluorescent, hot pink suit) performing on stage in Singapore at the 2010 SINGfest Music Festival, and now we have the pics!
Check 'em out below and continue reading to find out what Yeezy has decided to call his upcoming fifth studio album…

Kanye took to Ustream via a hotel balcony in Korea Friday evening (Aug 6) and announced that his new album's release date has been pushed back to "sometime in November," which is about 2 months past its original September 14th release date. The rapper also revealed the titles of two possible singles ("Lost in the World" or "All of the Lights") that will follow "Power" adding that the next single will be released within the next month, among other things.
Peep the 20 minute plus Ustream session below:
Meanwhile, Marco Brambilla, the guy who directed Kanye's "Power" music video, dropped a little hint on what Yeezy might be calling his new album in a recent interview with NY Mag.
And I understand you've heard that "Dark Twisted Fantasy" is the name of the album?
I've heard that's the latest name. I would say not locked-in, and it would probably not get locked until closer to the time of the album release.
Who's ready for Kanye to hurry up and put this new project out?
Your thoughts?
Be the first to receive breaking news alerts and more stories like this by subscribing to our mailing list.