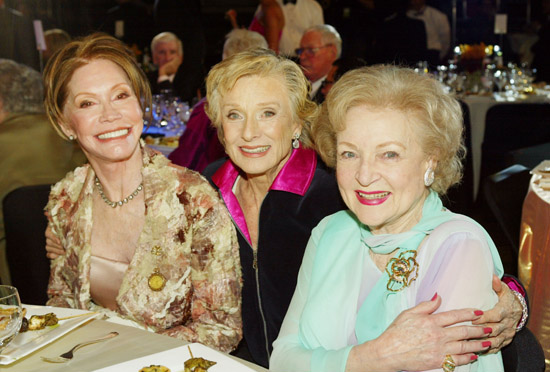 At a press conference held in Los Angeles announcing her new fall series "Raising Hope," Emmy Award winning actress Cloris Leachman said that she was "so sick of Betty White" in response to a question about how she feels about Betty's recent come-up.
"I'm so sick of Betty White," Leachman snapped, to laughs and a few gasps. "Never liked her."
She was joking of course and in character as she plays a sharp, snarky woman in her new TV show alongside White. The two veteran actresses aren't strangers to each other either because they both are alums of the hit 70's sitcom "Mary Tyler Moore," and now the two are working together again in a new movie, Leachman says. Continue reading for the details…
"We're co-starring in a new movie, called You Again," she noted, softening her tone. Still, Leachman really knew how to take over a press conference. She frequently answered questions that had been directed at Raising Hope creator Greg Garcia or co-star Martha Plimpton. She commanded that any reporter asking her a question stand and say his or her name before she answered. It was all in good, mock-grumpy fun, much like the battle-axe she plays in Raising Hope.

"Now you see why we work extra-long hours," quipped Garcia, referring to Leachman's barrage of one-liners and jovial insults. Informed by one reporter that she'd won more Emmys than any other woman and asked whether such things still mattered to her, she said, "You bet! And I'd better win one for this show!"

Source: EW.com
Be the first to receive breaking news alerts and more stories like this by subscribing to our mailing list.