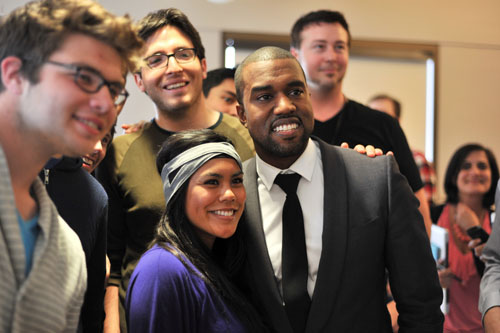 Twitter became just a little bit more interesting when the king of capitalized rants finally bit the bullet and joined the popular social networking website. Rapper Kanye West joined Twitter Wednesday (Jul 28) after paying a special visit to both Twitter and Facebook HQ to give employees an exclusive sneak peak of his new album. Video footage of Ye's visits eventually made their way online and people went nuts!
In just a few days, Yeezy already has close to 300,000 followers, and shortly after joining the site, Kanye said: "awwwww man this is addictive I might get in trouble on here!!!!" which is a far cry from his thoughts on Twitter last year, when he wrote on his blog:
I DON'T HAVE A F*CKING TWITTER… WHY WOULD I USE TWITTER??? I ONLY BLOG 5 PERCENT OF WHAT I'M UP TO IN THE FIRST PLACE. I'M ACTUALLY SLOW DELIVERING CONTENT BECAUSE I'M TOO BUSY ACTUALLY BUSY BEING CREATIVE MOST OF THE TIME AND IF I'M NOT AND I'M JUST LAYING ON A BEACH I WOULDN'T TELL THE WORLD. EVERYTHING THAT TWITTER OFFERS I NEED LESS OF.
Ye also announced that he's throwing out "Good Ass Job" as the title for his upcoming album, due in stores in the fall. No word on a new name just yet, but we have a good feeling he'll let all of his Twitter followers know as soon as he thinks of one.
Be the first to receive breaking news alerts and more stories like this by subscribing to our mailing list.