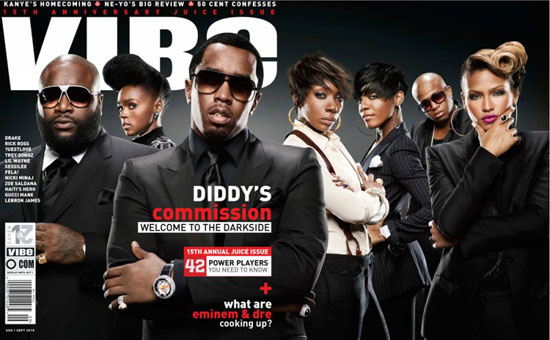 Diddy and all of his artists cover the August/September 2010 issue of VIBE Magazine, also known as the "JUICE" issue! Janelle Monae, Rick Ross and Sean John himself are holding down the front of the mag while Dawn Richard and Kalenna (from Dirty Money), along with Cassie and Red Cafe are holding down the flip side.
In the issue, Mr. Combs discusses being flattered by comments from Dr. Dre about his skills as a producer, how he felt about that guy from Nightline NBC grilling him about buying his son an expensive car, and what he thought about Lil Kim dissing Nicki Minaj.
The issue hits newsstands August 16th, but in the meantime, peep an excerpt from Diddy's interview below:
Dr. Dre said that the last beat that floored him was "All About the Benjamins." How does that make you feel?
It's humbling. I was in the studio with Dre the other day. He started working on a record for me. Watching him as a producer is watching greatness. We had a lot of similar traits. It was like looking in the mirror. He would ask questions like, "How you feel about this?" People don't really understand true producers want to know how you feel about things. We are some of the most observant people on the planet.

What happened during the Martin Bashir interview on Nightline?
There were times in the interview when I had to give him an ultimatum. The questions weren't being handled the right way. In hindsight, when I saw him I shouldn't had done the interview because I know the style of interview that he does . . . The whole thing about giving a Maybach to my son, that's really like a racist question. You don't ask White people what they buy their kids. And they buy 'em Porsches and convertible Bentleys and it ain't no question. It's really a racist question and put things back in perspective with money and the way that people still look at you. And I'm not saying that consciously he's a racist. But he probably don't even realize that he would not ask Steve Jobs that. He would be like Steve Jobs has that money and that's the gift his kid is supposed to get.

Are the comments from Lil' Kim about Nicki disheartening?
When I heard her say what she said, it didn't really affect me. I didn't get mad at her or anything like that. I knew how she felt. I ain't agree with it. But also I know the motivation. I know that people say, "Oh, he's trying to get a new Lil' Kim." I guess people will see in time. Yeah, Nicki's had flavored wigs on, but besides that it ain't even the same approach to the writing.

Your thoughts?
Be the first to receive breaking news alerts and more stories like this by subscribing to our mailing list.