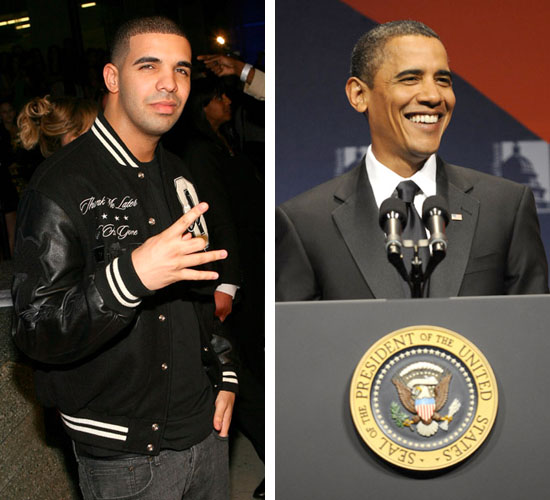 Canadian rapper Drake said he isn't finished with his acting career just yet in an interview with Paper Magazine.
In his cover story for Paper's Summer Music issue, the Young Money artist spoke on his "extreme desire" to get into acting and revealed his goal to play the highly coveted role of President Barack Obama on the big screen. Check out a few excerpts from Drizzy's new interview below!
On returning to acting:
"I have an extreme desire to get back into acting … I really have to gauge it off of how well this album does and what the demand is for Drake after this album … If people love Thank Me Later, then I'm going to keep it going. As crazy as that sounds, and as vulnerable as that sounds because it sounds like people are deciding my fate, it's just me being honest with you. If… it's unanimous that they're over [Thank Me Later], then yeah, maybe I'll have a little bit more time to act before I go back in and make another album. But I'm pretty confident in the music that I made. I think music will be commanding my life for the next little bit, and hopefully I can find a month or two months to film a movie."
On playing Obama:
"I hope somebody makes a movie about Obama's life soon because I could play him. That's the goal [laughs]. I watch all the addresses. Anytime I see him on TV, I don't change the channel, I definitely pay attention and listen to the inflections of his voice. If you ask anyone who knows me, I'm pretty good at impressions. Slowly but surely, I'm not in the study mode because nobody's called me about anything, but I just pay attention so when the day comes I'm not scrambling to learn how to speak like him. I want to be involved in great film projects. I don't want to do the basketball movie that everyone does. I don't want to do the typical black film that everyone expects. I think that I have enough experience to actually be involved in a real meaty project full of substance."
Was there a shot at Common in there or are we just reaching? (LOL) We just wonder if Drake will go by Aubrey "Drake" Graham in the credits…
What do you think about Drake playing Barack Obama in a movie?
Be the first to receive breaking news alerts and more stories like this by subscribing to our mailing list.