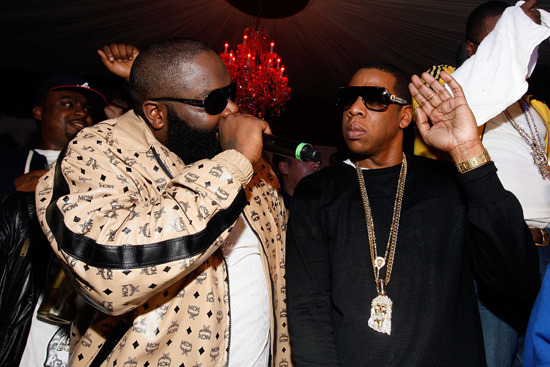 [audio:http://gossiponthis.com/wp-content/uploads/2010/07/free-mason.mp3|titles=Rick Ross F/ Jay-Z & John Legend – "Free Mason"]
Rapper Jay-Z tries his best to do away with those pesky rumors of him being a part of a secret society known as the "Illuminati" as he raps his verse on Rick Ross' new song "Free Mason," which also features vocals from R&B singer John Legend.
"N—as couldn't do nothing with me, they put the devil on me," Jay raps. "I would have preferred n—as squeeze the metal on me/ Rumors of Lucifer, I don't know who to trust/ The whole world wants my demise, turn the music up. If y'all n—as fear me, just say y'all fear me," he adds. "F— all these fairy tales/ Go to hell, this is God engineering/ … I said I was amazing/ Not that I'm a Mason …/ I'm on my third six, but a devil I'm not. …"

via MTV News
The track comes straight from Ross' upcoming fourth studio album Teflon Don, due in stores July 20th. No word just yet on whether or not this will be a single, but in the meantime, take a listen to the new joint above and continue reading for a download link!
Be the first to receive breaking news alerts and more stories like this by subscribing to our mailing list.