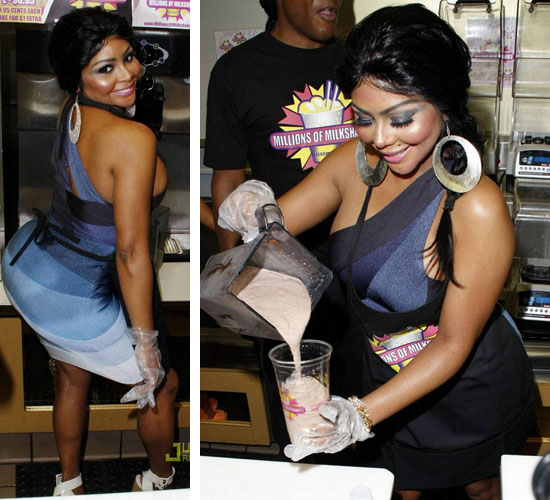 Lil' Kim spent her 36th birthday Sunday (Jul. 11) premiering her new milkshake flavor at Millions of Milkshakes in Los Angeles. The shake was named "Queen Honey Bee," and its ingredients include raspberries, bananas and nutella. Lil' Kim posed for pictures as she demonstrated how the blend is made. We wonder if Kelis has considering doing this since she claims her milkshake brings all the boys to the yard. Why not put it to the test? (LOL)
Meanwhile, Kim recently told Lifelounge why she believes she is still relevant:
"I'm constantly growing. My album came out in '97 but I started doing music in the early '90s. One reason that I'm still here and I'm still relevant to this day – probably even more relevant than a lot of new people who come into the industry – is because I know how to reinvent myself, I know how to change with the times."
We'll see just how well this "relevancy" holds up when it comes time for you to drop some new music. Until then, just sit quietly in your corner as you listen to Nicki Minaj's #1 hit single "Your Love," the first rap song by a (solo) female rapper to chop the Billboard Rap Chart in nearly a decade! Where are your solo #1 hits Kim? We'll wait… 🙂
Photos: Just Jared
Be the first to receive breaking news alerts and more stories like this by subscribing to our mailing list.