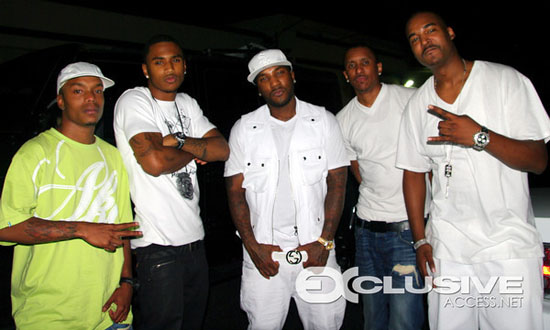 Rapper Young Jeezy has finally set a new release date for his upcoming fourth studio album Thug Motivation 103. The project is due to hit stores near the end of the summer on August 31st after many push-backs over the past year or so.
Meanwhile, Jeezy filmed the music video for the album's second single "All White Everything" yesterday (Thurs. Jul 8) in Atlanta and folks like Trey Songz, rapper Yo Gotti, NBA player Josh Smith of the Atlanta Hawks and producer Drumma Boy all came through to the video shoot.
The remix for the album's lead single "Lose My Mind" (featuring Hip-Hop newcomer Drake) made its debut last month at the 2010 BET Awards. No word on whether or not that particular song will be sent to radio or if a video will be made for it just yet, but an encore performance could happen next month at the OVO Fest where Jeezy and Drake are both scheduled to take the stage. The concert, called the "October's Very Own" festival, is scheduled to go down at the Molsen Amphitheater in Toronto, Canada on August 1st.
Check out a few pics of Young Jeezy in Atlanta on the set of his new "All White Everything" music video below…
Photos: Exclusive Access
Be the first to receive breaking news alerts and more stories like this by subscribing to our mailing list.