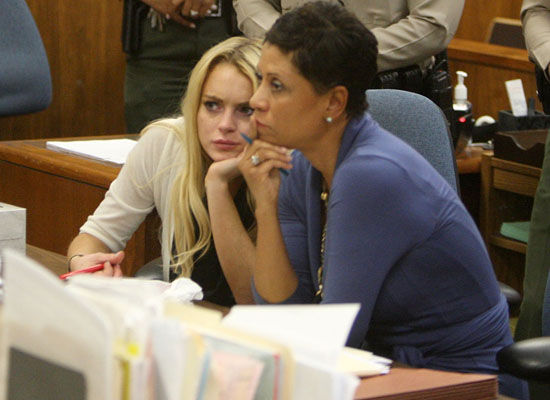 Just days after actress Lindsay Lohan was handed a 90-day prison sentence, it's being said that her defense attorney, Shawn Chapman Holley, has resigned from the case without noting any specific reason or cause for her surprise exit. But just shortly before she announced her departure, Holley took up for her then client calling the judge's 90-day jail sentence for Lindsay "harsh and unfair."
A statement from the attorney who fought hard for Lindsay throughout the entire case read:
"Ms. Lohan and I are extremely disappointed in the sentence handed down by Judge (Marsha) Revel. We believe that the penalty is far harsher than what others would have received under similar circumstances. The reality is that Ms. Lohan, like most defendants, had to balance work commitments with court requirements. To be punished so severely for doing so, particularly in light of the fact that she substantially complied with each of her probationary conditions, is harsh and unfair."
Holley also said that because of overcrowding and budget cuts, Lohan will only serve piece of the three months ordered by the judge. She also said that her former client will comply with the additional terms of her sentence, which include a three month stay in rehab and she must report to a probation officer for alcohol and drug testing.
But why did Ms. Shawn Chapman Holley leave?
Sources tell RadarOnline.com that Holley quit after she found out Lindsay was looking for another lawyer behind her back.
Los Angeles is a big city but a small town when it comes to top-notch legal talent and it didn't take long for Shawn to find out what was going on. "Two other lawyers were called and that's not including the lawyer Lindsay ended up hiring," a source told RadarOnline.com. "One of the other lawyers called worked with Shawn on O.J. Simpson's Dream Team criminal defense." Both of those lawyers declined the case and Lindsay kept shopping.
Be the first to receive breaking news alerts and more stories like this by subscribing to our mailing list.