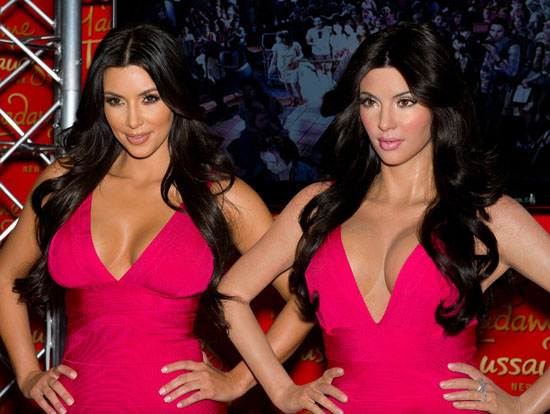 Socialite/TV personality Kim Kardashian struck a pose next to her brand new wax figure earlier today (Thurs. Jul 1) at Madame Tussauds in New York City's Times Square.
Madame Tussauds studio artists from all over began working on the figure several months ago and spent more than an hour with Kim Kardashian herself. Via statement:
"The artists took hundreds of precise measurements and photos of Kim, and found exact matches for her eye color and skin tone. Kim's incredibly lifelike wax figure will don a stunning red Hervé Léger dress and peep toe heels. Posed in a standing position with hands on hips, Kim's wax double captures the star's smoldering personality and flawless sense of style."
At the unveiling event, a very excited Kim Kardashian told MTV News that she was honored to have her very own wax figure in the world famous museum.
"When I first heard I was going to be immortalized, I was so honored. I mean, it's a pretty cool thing. I called my sisters right away, and it looks so much like me, it's scary. It's probably one of the biggest honors, so [my sisters] were so excited for me."

So, how does Kardashian think the statue turned out? "It is weird! It's like she's prettier than I am. It's so weird, like, my arms and the hands … everything about it is so exact that it's weird to see yourself," she laughed. "So now I can really see from an outsider's point of view. It's weird." It really had us wondering what she would think of herself if she saw herself walking down the street. "I'd say she's pretty hot!" she joked. "I'm just kidding. She has better hair than I do."

To add to the uncanny similarities between herself and her wax figure, Kardashian wore the same exact hot pink Herve Leger bandage dress the statue is wearing. "Well I wanted something that would represent my style, something tight and sexy and fun and flirty," she explained, adding that there's even a star or two she — or rather her statue — would like to be standing near. "There's so many amazing, iconic people. Jennifer Lopez would be fun. Michael Jackson would be amazing."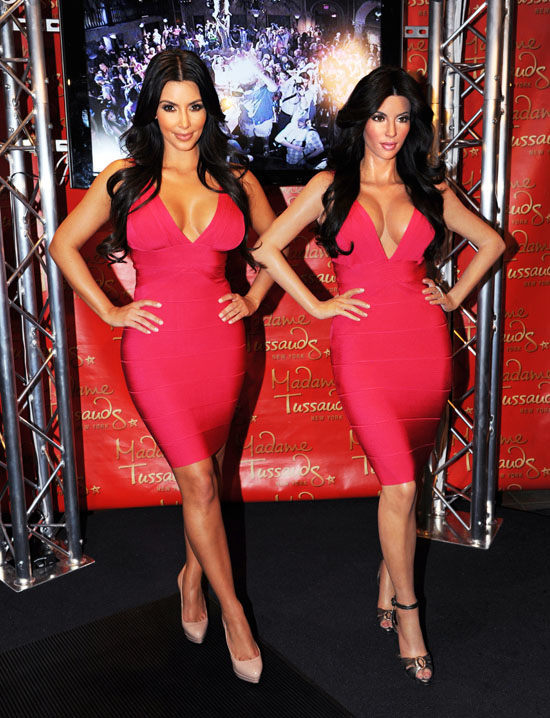 Be the first to receive breaking news alerts and more stories like this by subscribing to our mailing list.