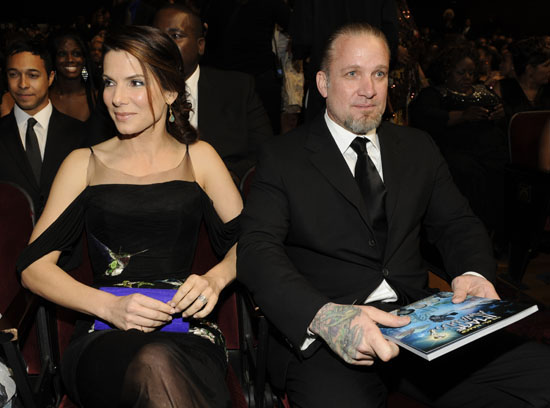 The marriage between Sandra Bullock and Jesse James is officially a wrap!
The now ex husband and wife pair have reportedly both signed off on the last bit of paperwork to finalize their public divorce, which has been plagued with a bunch of "mistress" drama over the past few months. The signed papers, which described the marriage as "insupportable because of discord or conflict of personalities," were submitted to the clerk's office in Travis County, Texas and Sandra leaves the marriage with full rights to do a single parent adoption of baby Louise from New Orleans.
In the days following her receiving her first Oscar, Sandra found out her husband had been creeping with seven other women when the first mistress Michelle "Bombshell" McGee came forward with her story.
Sandra and Jesse tied the knot in July 2005.
It's definitely sad to see another Hollyweird marriage crash and burn, but at the same time, this divorce almost had to happen (with the circumstances and all). We wish Jesse James and Sandra Bullock the best in living the single life though.
Do you think Sandra will ever get married again?
Be the first to receive breaking news alerts and more stories like this by subscribing to our mailing list.