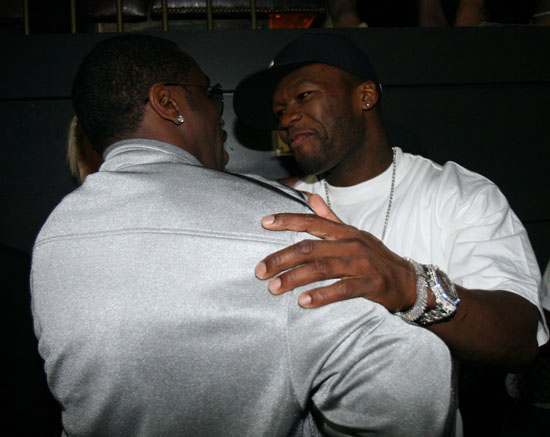 Many of you probably saw Diddy address his haters during the after party of the 2010 BET Awards the other night. During the party, Diddy had a little message to a special someone who he didn't name in particular:
"Check this out. I love my people. Let's stop the hate, man. Congratulate. Hate is for suckers. If you hating, you a sucker, and you're ashy and your breath stinks. And you know who I'm talking to, you hatin' a** crab!"
Clearly, our boy Diddy was talking about someone in specific, but who?
We have a really good feeling that his comments were directed at 50 Cent. Why? Well let's just say that 50 is back to dissing other artists, a cheap tactic that's pretty much made him a household name in Hip-Hop over the years. During a recent interview with Boston's Jam'n 94.5 radio station, 50 Cent ranted about Diddy's new music ventures with Rick Ross, Nicki Minaj, and Dirty Money calling him a "bloodsucker" and a "serpent."
Beef brewing? It's beginning to look like it! We predicted that this would happen, but will Diddy continue to feed into it or take the high road like others have?
But it's not like Fiddy didn't have that coming though. He's been talking real greasy lately…
Be the first to receive breaking news alerts and more stories like this by subscribing to our mailing list.