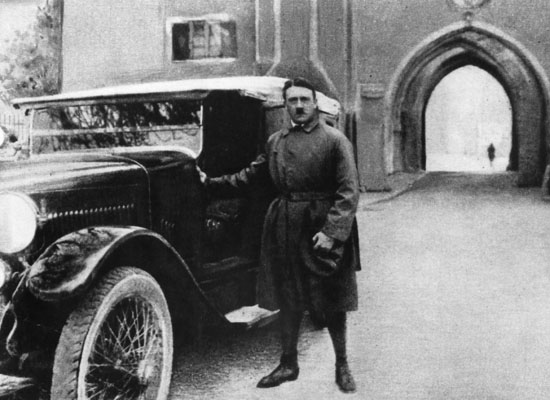 An old letter written in September 1924 by Nazi leader Adolf Hitler while he was in jail reveals that the cult leader was low on funds and needed to borrow money for a new car.
As he served a 5 year prison sentence at Landsberg Fortress prison (where he was being held for his role in the "Bierkeller Putsch" when his developing Nazi party tried and failed to take over Munich), Hitler penned a letter begging for a loan for a Benz to a guy named Jakob Ferlin, who owned Mercedez-Benz dealership in Munich.
Hitler had his eye specifically on an grey 11/40 model which at the time cost 18,000 Reichsmarks. In the letter, he wrote:
"But the hardest thing for me at the moment lies in the fact that the biggest payment for my work is not expected until the middle of December. So I am compelled to ask for a loan or an advance. Naturally something in the order of several thousand marks would be a big help."
Hitler was also concerned about the up-keep of the vehicle and was worried that he couldn't afford maintenance and costly repairs:
"That is the only thing about the 11/40 that makes me cautious. I can't afford a vehicle every two or three years or pay for expensive repairs either."
Adolf Hitler was released from prison in December 1924 but it's unknown if he ended up getting Ferlin to loan him the money for the Benz. The letter, a copy kept by the prison, was found among 500 documents at a flea market by a Nuremberg man and was recently authenticated by the Bavarian State Archive in Munich. The original letter was lost to history when it sent to Herr Ferlin. An auction to sell the documents will be held in Fuerth on July 2nd with a starting price of 25,000 pounds (a little over $30,000 USD).
Be the first to receive breaking news alerts and more stories like this by subscribing to our mailing list.