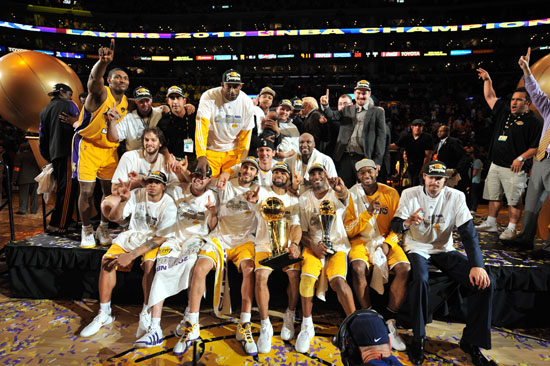 The Los Angeles Lakers showed up prepared with a vengeance in the Staples Center Thursday night (Jun. 17) but almost suffered a defeat against the Boston Celtics in a tough seven game series in the 2010 NBA Finals! This also was the first seven game series in the Finals since 2005 and this season ended with a battle between NBA's biggest rivals.
The Lakers prospered a victory by 4 points leaving the score 83-79. Although Kobe Bryant got 23 points and 2 assists, he was only 25% of successful field goals in Game 7 and it showed throughout the entire game. Bryant showed his gratitude for his teammates who performed to help the Lakers achieve it's 16th championship title:
"This one is by far the sweetest, because it's them," Bryant said, "This was the hardest one by far. I wanted it so bad, and sometimes when you want it so bad, it slips away from you. My guys picked me up."
Kobe also expressed how it felt to win his 5th ring individually as a player:
"Just got one more than Shaq … so you can take that to be bank" he laughs and continues, "You guys know how I am, I don't forget anything…"
Coach Phil Jackson added his 11th ring to his collection and marked his fifth championship with the Los Angeles Lakers. Although, he seems prepared for another season this may be his very last game with Lakers due to health concerns and a pay cut. Jackson rejoiced with happiness of his current victory while wearing a championship cap but still is hesitant about his return:
"I've got to take a deep breath. I've got to take some time to think about this," Jackson said, "This was great. I'll wait to make that decision in a week."

Kobe added, ""He knows how bad I want him back," Bryant said. "I've been openly blunt about how much I want him back."
Laker Ron Artest, with 20 points, 5 rebounds and 5 steals, performed with clutch-ness last night in Game 7 and literally shifted the game's ending score by scoring a three-pointer in the final seconds of the game. This will be the first championship victory for Artest and he showed that enthusiasm in every interview all night:
"I always told people it's about the total points, it's about what we do as a team" he continued, "It's not about what I did, although I had 20 points, I still think we accomplished that as a team."
Pau Gasol scored 19 points and 18 rebounds with 4 assists. Boston Celtics' coach Doc Rivers expressed his emotional distress this series has cause to himself and his team:
"We were the tightest, most emotional, crazy group I've ever been around in my life. There's a lot of crying in that locker room," Rivers said. "A lot of people who care. I don't think there was a dry eye. A lot of hugs, a lot of people feeling awful. That's a good thing. Showed a lot of people cared."
Rajon Rondo scored 14 points, 10 rebounds and 8 rebounds. Paul Pierce finished with 18 points, while Kevin Garnett had 17 points, 2 assists and 4 blocks. The Celtics played a great series but regardless the Lakers played better offensively and defensively. Congratulations to the Los Angeles Lakers for an amazing effort. Until next year, Go Lakers!
Be the first to receive breaking news alerts and more stories like this by subscribing to our mailing list.