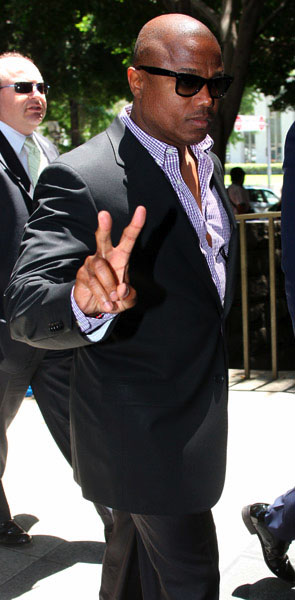 Randy Jackson, one of the King of Pop's younger brothers, was rushed to the hospital Tuesday (Jun 15) after suffering from chest pains. A Jackson family rep confirmed that the former J5 member was receiving treatment at Huntington Memorial in Pasadena, CA.
Jackson, 48, was experiencing chest pains around noon yesterday and was admitted to Huntington Memorial, where they conducted tests and determined that he had a mild heart attack.
But we hear this isn't Randy's first heart attack and that's why when he felt chest pains, he took himself to the hospital to see what was going on as a precautionary measure. A rep from the family says that RJ is back at home after staying overnight at the hospital and is "doing okay."
Glad to know everything went well and Randy's doing okay!
Meanwhile, next Friday (Jun 25) marks the 1 year anniversary of Michael Jackson's death and Randy has been in talks with officials at Forest Lawn (where MJ is buried) in an effort to have fans admitted to the area near Jackson's tomb on the anniversary.
Be the first to receive breaking news alerts and more stories like this by subscribing to our mailing list.