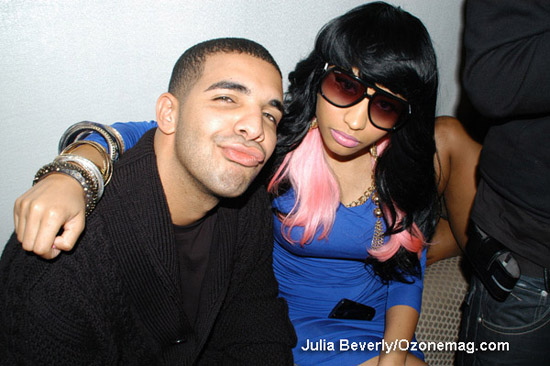 Rapper Drake just about has a crush on all of the top female MC's and R&B singers in the game right now, however none of them compare to his love for his Young Money label mate Nicki Minaj. In a recent interview with DJ Envy, Drizzy talks about his first encounter with Nicki and how he's had strong feelings for her ever since. Click below to see what Drake said about his "love" for Nicki Minaj…
"When I was on tour … I saw Nicki for the first time and, like, literally fell in love. She had this snap-back hat on that said 'Minaj.' She used to wear that every single day. She was like a theater student and she was so cold at rapping…I remember one of the first nights that we were out in Miami and I went to Jerry's [Famous Deli]. I was like [to Minaj], 'You want food, you hungry?,' and she was like, 'Yeah, I want some food.' I was like, 'I'm in, we gon' eat food together.' I came to her door and she took the food and shut the door in my face! I was just like, 'Man, this is gonna be a long road for us.' … I've always really, actually, really had a crush on her, always really loved her, and she's always just looked at me as, like, her little brother."
Nicki later addressed all of the fuss on Drake having a crush on her.
"Drake does not have a crush on me. Drake knows how to get you guys' attention."
Nicki, you know Drizzy loves you! Not more than Weezy though…..LMAO
Be the first to receive breaking news alerts and more stories like this by subscribing to our mailing list.