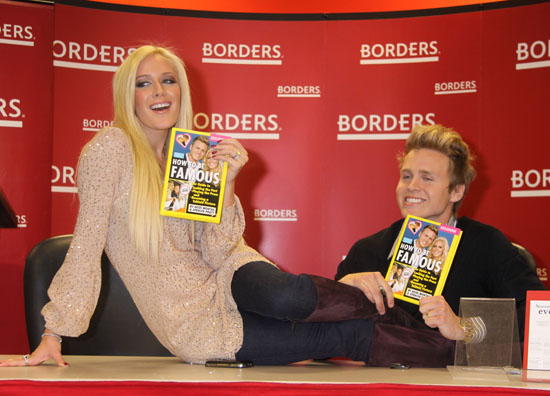 Could it be possible that both Heidi Montag and Spencer Pratt are cheating on each other? Maybe!
It's being said that the unhappily married couple have accused one another of having affairs, and Heidi has even gone as far as to hire a private investigator to snoop on Spencer's where-abouts. And as far as Heidi's infidelity is concerned, she' has supposedly moved in with a guy named Cougar Zank, who according to Radar Online, is a Marine turned bodyguard who had become good friends with Spencer and actually lived in their home for a while.
When Heidi and Spencer split last month, Cougar invited Heidi to stay with him at his house in Malibu, which pissed Spencer off. And to make matters even worse, Heidi is supposedly letting Cougar tag along with her as she travels.
"They are definitely friends and I don't know if there is anything more to it than that, but Spencer believes there is, the source said. "He's certain there is."
Heidi recently flew up to New York City (with Zank allegedly by her side) to shop around for production companies for her and her BFF/former Hills co-star Jen Bunney's new reality show about two single girls traveling the world together. And we hear Heidi is really serious about remaining a "single girl."
Heidi hasn't officially filed a divorce petition just yet to follow up with the legal separation papers she filed last month, but we hear that she is most definitely planning to do so soon.
"She's just getting organized on a few things, and then it will be filed," the source reveals. "She felt she had to get the separation petition done in a rush last week to stop the money flow." Under California law, community property ends on the date of separation. "Heidi is very concerned about the finances," the source says. "Everybody knows she's made more money than Spencer. She needs to protect it."

One of Heidi's major concerns, the source reveals, is that Spencer has been seeing another woman since their split in May. "She is very anxious to find out if her suspicions and the rumors are true, especially if he's spent any money on another woman. "Heidi has hired a former member of the sheriff department, who now works as a private investigator, to look into it," the source reveals. "It is really important to Heidi to find out if Spencer has been cheating on her."
These people have serious issues! SMH…
Be the first to receive breaking news alerts and more stories like this by subscribing to our mailing list.