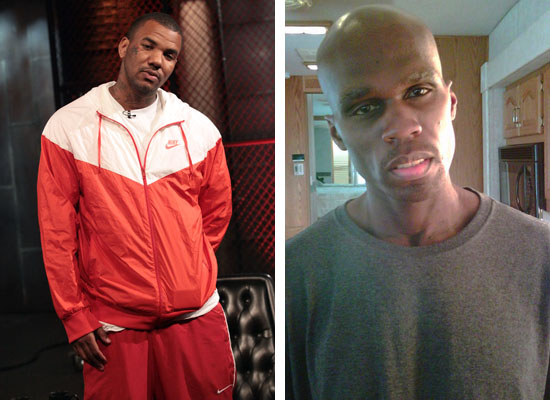 Rapper Game (he removed the "The" from his name) recently spoke with MTV and gave his opinion on his frenemy 50 Cent's weight loss for his upcoming role in "Things Fall Apart." Usually, we'd expect some type of diss or joke from Game, but he surprised us by actually giving 50 props for taking on such a powerful role and actually looking the part. Check out what Game had to say about 50 and his new movie role below:
"All my boys was sending me pictures of 50 where he sucked up, looking like a smoker, lost all the weight," Game said in an interview. "They were looking for me to give them some type of funny feedback or clown with it. But all I saw was a dude that's trying to win an award for playing a cancer patient and really look like a cancer patient. I do my own assessment of character judgment. Right here in my mind, I was like, 'See? Progress!' That's what I'm on today, man. But I have the right to get in your a** if I need to."

MTV

We have to say that we are very surprised by his comments. We expected Game to use this as a way to diss the hell out of 50 Cent and generate some publicity for himself, but instead, he commended 50. Clearly, Game is having a change of heart when it comes to 50… but then again, that's what was probably required in order for him to get back in the studio with Dr. Dre!
Be the first to receive breaking news alerts and more stories like this by subscribing to our mailing list.