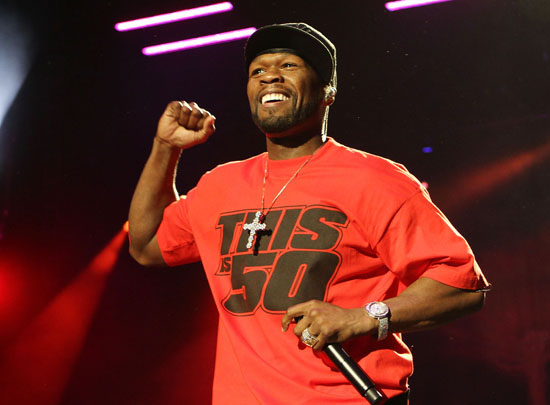 50 Cent is back!
The rapper, who recently had the Internet going nuts with his "skinny pics" (click here in case you missed it), is gearing up for his new movie "Things Fall Apart" and his upcoming fifth studio album, tentatively titled Black Magic. And he recently spoke to our friends over at Rap-Up.com and talked about the new direction of his music, giving us a little insight on what's giving him inspiration this time around.
Check out what he had to say about his new project below:
Is your next album still called Black Magic?
I started writing to a Black Magic concept before I left and since I've been back I've been writing in a different direction, so I'm not sure if it'll be totally what I initially created. I'll end up taking the best of everything. Since I came back off the [European] tour, I got bombarded with new production, so many good ideas in there that I started writing to another concept.

So the album title could change?
Yeah, it could change—because it won't be the same music. It'll end up being something different. It may [stick] though 'cause I'm still writing.

You once mentioned that you were experimenting with an uptempo, dance sound. Is that correct?
That was in reference to a song that I recorded while I was [in Europe]. I got a chance to hear the music that was playing out there prior to me coming there. It's almost like when I come into the territory they change the music to 50 Cent music, so I'm saying, "What were you playing before I got here?" And this music was all fast, the tempo and production, it was just different. So I recorded a song with my actual band at the time 'cause I was traveling with them. I went to the studio and we recorded a song together that had that kinda tempo to it and I said this'll work right now 'cause this is what they're actually dancing to. But the whole album doesn't have that actual feel. That song probably won't even make the record. When I'm in the creative space, I start sorting through everything possible because I might find something that's special in that area.

How would you describe your latest direction?
It's still got a soulful vibe to it and that's why I called it Black Magic. I had some Marvin Gaye-inspired stuff, some things that content-wise would feel like something Curtis Mayfield would do from my perspective, and just the choices of how the cadences on the records were like performance music that they did in the past. It feels brand new. If I didn't tell you it was inspired by that, you wouldn't know that I got it from that. I didn't say the same things that they said; it's just my perspective on what they offered.

Who are some of the producers you've been working with?
It's been various. I'll work to create a big enough portion of work that when I go to the producers that you would recognize immediately, they have something to top. Like this is where I started, now let's go from there. Sometimes the newer producers have hit records. They don't produce hit records as often as a Dr. Dre or a Timbaland or a Polow, but they make them. If you're around the music enough to identify a hit when you hear one, then you can sort through it and find those special pieces. I usually write to music that inspires me to offer something. If I'm just sitting there, I don't write a song because I can. Actually I did that with Dre a couple times. I walked in the studio and I said I'mma rap to the first beat that he put on so he can feel like we gettin' the ball rollin', and we just gon' find that special record. On the first album, Get Rich or Die Tryin', I only worked with Dre for four days. We recorded eight songs and I kept four of the eight songs. So it doesn't take a long time for me to get it together if the right production is there.

Does the album have a release date?
No, it doesn't. I'm supposed to meet with Em about that actual release date. Eminem recorded two albums worth of material; it was Relapse and Relapse 2 and now it's Recovery. He changed it and I'm not even sure if the music for Relapse 2 is ever gonna come out because he had a whole new idea that he wanted to write to, so he probably changed the whole album.

SOURCE
It will be very interesting to see how 50 cent's next album turns out. Clearly, he realizes that "gangsta rap" is becoming a dying breed.
Be the first to receive breaking news alerts and more stories like this by subscribing to our mailing list.