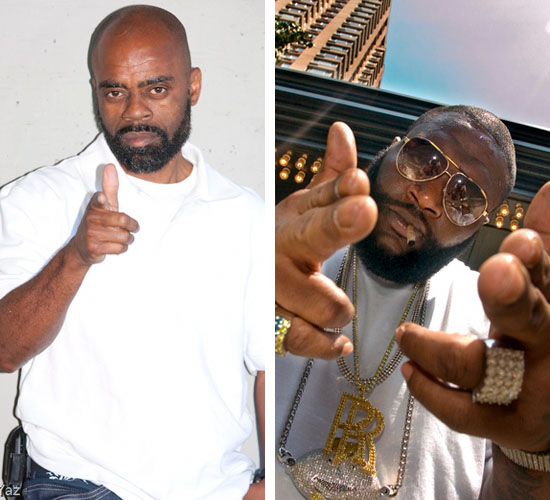 Will the real Rick Ross please stand up?
Former big time Miami drug dealer Freeway Ricky Ross is planning on suing rapper Rick Ross (real name: William Leonard Roberts II) over usage of the name "Rick Ross." Since being released from federal prison on parole in 2009 after serving 20 years of a life sentence, the real Rick Ross plans to battle the Def Jam rapper in the courts this summer for using his name without permission.
Ross, who was sentenced to life in prison back in the early 90's for attempting to purchase over 100 kilos of cocaine and running a $2 million per day multi-state drug empire, claims that Miami rapper Rick Ross signed a lucrative recording contract with Def Jam Records back in 2006 and began making music and creating his rap persona off of his image.
In an attempt to gain legal control over his own name, Freeway Ricky had lawyers send cease-and-desist letters to Def Jam requesting that the rapper stop using his name, but they were ignored. So in response, Ross plans to sue Def Jam and its parent company Universal, along with Rick Ross and other unnamed individuals.
In the meantime, Freeway Rick Ross is working on a movie about his life, due to be released sometime in 2011 and he's also said to be working on a book deal. He also recently launched his own website in an effort to build a following and promote his dispute over his name.
Rick Ross the rapper, who hit the scene back in 2006 with his debut single "Hustlin" is gearing up for the realease of his 4th studio album Teflon Don, which is slated to drop on July 6th.
Be the first to receive breaking news alerts and more stories like this by subscribing to our mailing list.