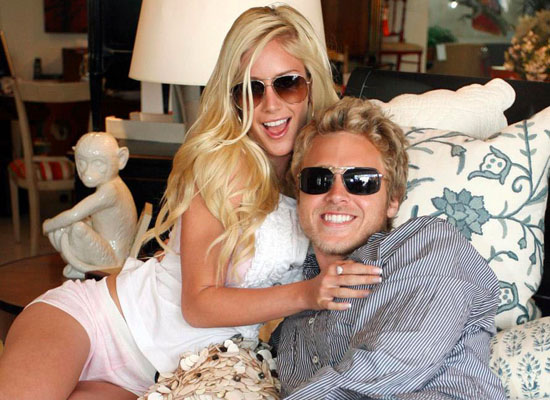 It's no secret that reality TV star Heidi Montag is as looney as they come. But in the May 31st issue of Star Magazine, her father says that he's really worried about Heidi's well-being with everything that's going on, including her "addiction" to plastic surgery, her equally crazy husband Spencer Pratt and her messy home.
Heidi's father Bill Montag tells Star that his daughter and son-in-law's home is filled with guns, the windows are covered up to block out daylight, there are dirty dishes stacked up in the kitchen and they just let the puppies do their business all over the house.
"I'm worried for her," Bill Montag — who hasn't heard from Heidi since March — reveals to Star exclusively. "I'm afraid for her life." And he isn't willing to take a wait-and-see approach to the situation. "If I don't hear from them soon, good or bad, I will take my family and get his family and go there and talk to them," Bill says. "They can call the police on me too. I want to make sure both of them are OK."
Heidi and her husband reportedly called the police on Heidi's mom last week when she showed up "unannounced and unwelcome." It sounds like Heidi and Spencer are trying to distance themselves from Heidi's family for whatever reason. This definitely doesn't sound too good. And what's up with the dirty dishes in the kitchen and just letting their dogs piss and crap all over the floor? That's just disgusting!!
Be the first to receive breaking news alerts and more stories like this by subscribing to our mailing list.