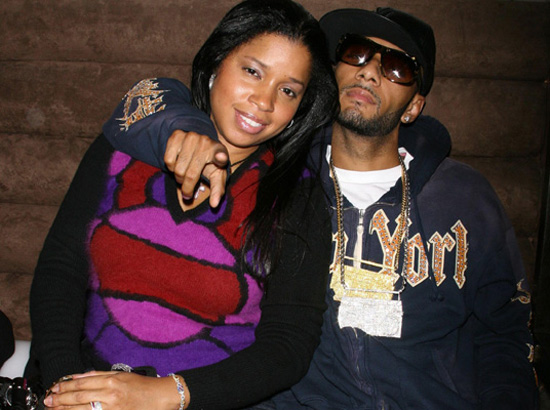 Damn, just 2 weeks after Swizz Beats finalized his divorce with Mashonda, she is already back on the prowl looking for ways to make his life as miserable as possible. She is taking the super producer back to court because he is supposedly late on spousal/child support payments.
Here's what The NY Post said:
The ink's not even dry on their divorce yet, but hip-hop producer — and soon-to-be Mr. Alicia Keys — Swizz Beatz and his ex-wife are heading back to court. In papers filed in Manhattan Supreme Court, Mashonda Dean says the man who officially became her ex-husband two weeks ago already owes her $334,000 in missed payments. "I so much wanted both of us to get on with our lives and maintain our respect for one another, but he now shows that his priorities and sense of responsibility are screwed up," Dean said.
Dean's lawyer, Bernard Clair, called the nonpayment "particularly troubling" because of reports that Beatz bought a seven-carat engagement ring for Keys earlier this year and that they're moving into a $14.5 million duplex penthouse on Crosby Street. Beatz told The Post his ex's allegations that he owes $325,000 in equitable distribution and $9,000 in alimony and child support are "inaccurate" and "overblown," and said that he's gone "above and beyond" to provide for her and their 3-year-old son, Kasseem Jr.

He said he'd agreed to pay Dean more than the judge required and much more than his lawyer recommended — he even had to sign court papers acknowledging that he was going against his attorney's advice. "I gave over what the judge was recommending to give. I gave her $700,000 up front, because I thought $200,000 wasn't enough for what she wanted to do. I still get spit in my face for it," he said. He suggested that the subsequent payments had been ready to go when he discovered "she'd been selling all my stuff out of my house."

Clair said the only items his client sold were some remote-controlled vehicles the producer had left behind after movers took out his belongings." The two sides are due back in court next month. The 31-year-old will reportedly tie the knot with the stunning "Empire State of Mind" singer Keys this summer.
Now this is somewhat shocking and should be embarrassing for Swizz' new boo Alicia Keys. Could it be that Swizz has been "high-siding" and may be heading down the same path as Scott Storch did when he was forced to file bankruptcy last year?
Be the first to receive breaking news alerts and more stories like this by subscribing to our mailing list.