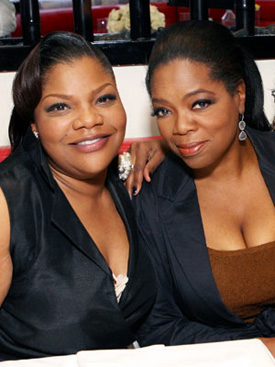 Actress/comedian Mo'Nique is still not on good terms with her family due to her brother Gerald Imes molesting her when they were younger, but the Oscar winner is no longer mad at Oprah and has forgiven her.
Mo was said to be unhappy with the way Oprah's interview with her mother, father and brother on "The Oprah Show," even though the "Precious" star gave Oprah to go ahead to discuss the topic on her show. She felt that O wasn't sympathetic enough towards her situation and claimed that her brother told lies in the nationally televised interview.
A source close to Mo'Nique told RadarOnline.com: "Mo'Nique has decided to forgive Oprah and to move on although the interview hurt her to her heart. "But she's still not forgiven her family and unfortunately the grudge could now go to the grave because her parents, Steven and Alice, are getting older now. She feels that her parents have never fully accepted Gerald's role in the molestation and ever told her that it was not her fault." To add insult to imjury, the source revealed, "Gerald is planning to write a book about their childhood and Mo'Nique feels that he is just trying to profit from the incident. "As a mother herself she does not believe her brother has ever got the therapy or the help that he truly requires."
The source also said that despite her issues with her family, Mo'Nique is very happy with her own marriage to her second husband Sydney Hicks and is busy raising three sons: 4-year-old twins Jonathan & David, and 17-year-old Shalon from a previous marriage. Mo'Nique is also said to be taking a break on making movies to focus on her late night BET talk show "The Monique Show."
"At the moment she's really concentrating on The Monique Show and wants it to reach a wider audience. The movie parts that she's getting offered have been to stereotypical of the black over-weight woman which she does not want to do," the source added. "Besides, she has lost a lot of weight recently and is feeling good about herself right now, so, that would not be appropriate."

RADAR ONLINE

Be the first to receive breaking news alerts and more stories like this by subscribing to our mailing list.