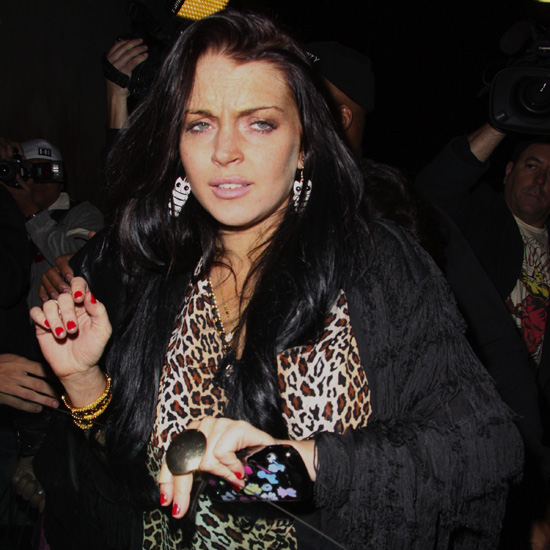 Is it just us or has the Lindsay Lohan story gotten way too far out of control? Like seriously, to the point where neither us, Lindsay nor her parents really know what's going on! Well… we're going to try to wrap it all up for you to the best of our abilities.
According to sources, the 23-year old actress is broke and may be receiving an eviction notice sometime real soon. Somehow Lindsay was able to fall over $23,000 behind on rent for her Hollywood apartment. And this isn't even the beginning of it! The Hollywood star also has several other unpaid debts that have risen to over $1 million dollars. If Lindsay is unable to pay all of these debts to creditors immediately, major consequences will be enforced.
And get a load of this! The former Disney star also may be receiving a series of lawsuits to accompany all of her unpaid debts. In 2007, a drunk Lohan allegedly hijacked an SUV belonging to three men and is now being sued for $25,000 in damages. What in the H-E double hockey sticks?!? Where they do that at????
So in an effort to put a small dent in the enormous debt she already owes, Lohan has been selling many of her prized-possessions which include purses, jewelry, and designer clothes. She has also taken on a role as porn star Linda Lovelace in an upcoming film titled "Inferno." Now, you would think after all of that, this would be end of the story. But hold tight, there's a little bit more…
Lindsay is currently on probation for two DUI charges dating back to August 2007 and she's required to complete Alcohol Education Classes. Failure to comply with this order can result into some jail time for the star, and a progress report must be presented to Judge Marshal Revel on the actress' behavior by the end of business today (Fri. May 14).
If we don't see that sign stamped on Linday Lohan's forehead that reads "Child-star gone mad" then we're about dumber than Nas when he married Kelis! (LMAO). Come on, give us a break, it's not like we're lying… wouldn't you agree?
Be the first to receive breaking news alerts and more stories like this by subscribing to our mailing list.