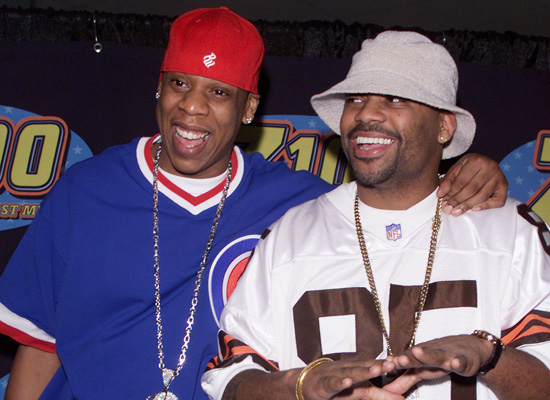 Hip-hop mogul Damon Dash says that he is open to linking up with his former BFF/business partner Jay-Z in the near future to help rebuild their old company Roc-A-Fella Records, despite the issues they've had with each other in the past.
Dame and Jigga fell out in 2004 following a number of big disagreements with their label. Jay-Z went on to take complete control of the label and became the president of Def Jam Records (Roc-A-Fella's parent label) and has since gone on to become a hip-hop legend. Dame, on the other hand, has kept a low profile over the years, but now that he is back in charge at Roc-A-Fella, he wants to bring it back in a big way and says that he has no problems with possibly working with his old friend Jay-Z.
"If Jay wanna come through and do something, he can come holla at me," Dash said. "I ain't got no beefs with Jay. Just off the strength that it's Roc-A-Fella, I could never tell Jay he can't be a part of something he helped create," the Harlem born CEO said. "So maybe it felt ridiculous that he said [me and Biggs couldn't be a part of Roc-A-Fella once we sold the company] and a Roc-A-Fella purists didn't appreciate that. If I walked away from Roc-A-Fella, then that would be different. But the option should always be there. So the option is there for him. He helped build that. And I don't hold grudges. I think one of the most important things in evolving is forgiveness. If he did something wrong or if I did something wrong, we'd have to forgive each other, or we'd still be children."

MTV NEWS

Be the first to receive breaking news alerts and more stories like this by subscribing to our mailing list.