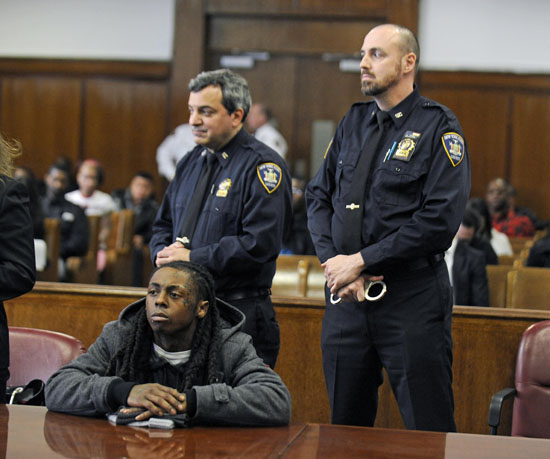 Rapper Lil Wayne may have gotten himself into more trouble than he expected. After receiving an infraction Tuesday for being found with a pair of headphones and an ipod charger, the rapper may be receiving more jail time! Sources say the offense isn't extremely serious, but Wayne could receive more time behind bars.
"You just get an infraction, a violation," the source told MTV News. "You lose some 'good time.' … It depends on the severity of the infraction," the source added about what other type of trouble Weezy could get into. "Level one is the worst. Then you have [level] two or three. [This infraction] could be a level one. He has to go on trial, and based on evidence, they'll make their determination."
The source also explained how Wayne was able to obtain the goods and the process he would have to go through for receiving an infraction.
"There's a lot of ways it can happen. Through a visit, or it could be through someone else. In the visiting area the barrier between an inmate and the visitor is a small table — that's about it. It could happen between when you first come in and [the visitor] gives you a hug."
Within 48 hours of the incident, Wayne would have to face a captain and correction officer in court. However, the source didn't know if this had already taken place. The source also confirmed that the "contraband" was found in a bag of potato chips.
"They sell specific items in the commissary and if you have anything other than that, then that's not a good look."
Well if you end up having to do more time Wayne, those songs you just couldn't wait to work on better be DAMN worth it when they come out!
Source: MTV News

Be the first to receive breaking news alerts and more stories like this by subscribing to our mailing list.