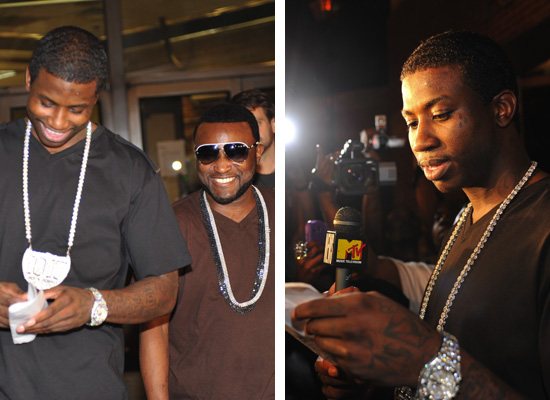 After serving six months in Fulton County Jail for charges stemming back in November, rapper Gucci Mane is finally free! Immediately following his release, he held a press conference in front of the jail with his homie Shawty Lo by his side, and announced his plans for the next few months and also talked about his new business deal with Asylum/Warner Bros. Records.
Gucci has also decided that he wants to clean his image up and become a positive role model.  During his press conference outside the Fulton County Jail in Georgia, Gucci Mane (real name: Radric Davis) announced that he wants to turn his life around and stay out of trouble from here on out.
Continue reading for Gucci Mane's official statement and video footage from the press conference…
"Unfortunately, my incarceration also came at a pivotal point in my career, just as my first major label album was dropping. I was forced to miss what should have been one of the proudest moments of my life. This is something I will make sure never happens again. My time in jail was trying, but I grew from it and am now a stronger and better person. I want to continue on a positive track and truly focus on being a role model to my fans and my community.

"I have made some mistakes in my life that have hurt a lot of people who care about me. I have worked very hard to get past them, but those mistakes have brought me to where I am today, and they will not be repeated. These past six months have been a difficult time but fortunately I have learned a great deal from my experience. I was able to do a great deal of soul searching; I am coming back with a new attitude towards life."
Be the first to receive breaking news alerts and more stories like this by subscribing to our mailing list.