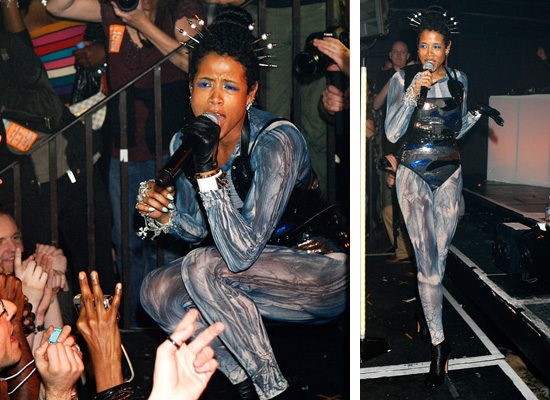 The always eccentrically fashionable singer Kelis took to the stage and performed for her fans Saturday night (May 8) at G-A-Y Heaven Nightclub in London, England. Check out a few pics below:
In related news, Kelis' estranged husband rapper Nas told Vibe Magazine that Kelis gives him hell whenever he wants to see their son Knight.
How'd it feel to be awaiting you first son while recording Distant Relatives?
It's amazing. It just made everything feel like it was right on time, you know? To have a daughter is amazing too, but when you're a man, to have a son is different. My daughter is my princess and now I have a prince, so it's a beautiful thing to have a son and a daughter. Now I have a little man. It's the coolest shit ever.

How old is Knight? Is he walking yet?
He's like nine months. He's crawling, pulling himself to stand up. He said the word 'stick' about a month ago. He's been talking for about two months, saying little words here and there.

Any of them rhyme?
Nah. [Laughs]

What was his first word?
I don't know, it sounded like he was trying to say 'hello.' He was picking up on things very young, like two to three months if not sooner. It just throws you that we're born knowing what's up.

How often are you able to see him?
My son was born with ice grills, so when his mom feels in the mood she sends pictures. If not, its hell. It's hell trying to figure that out, trying to get him—I'll just leave it at that. It's hell. A man shouldn't go through that shit, but it's another story I'ma tell at a different time.

I hear you.
Overall he's super good, and when I do get him there's nothing better in the whole world. When I get both my kids together its beautiful.
Be the first to receive breaking news alerts and more stories like this by subscribing to our mailing list.