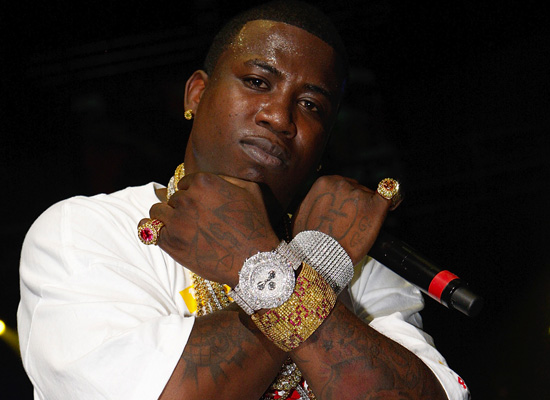 Are you ready for Gucci Mane to make another "back from prison" comeback? Well, after 6 months of hard jail time, the Atlanta-based rapper is ready to be sprung tomorrow (Wed. May 12) as confirmed by Hot 97 radio personality Angie Martinez on her radio show last week. She also revealed that the 30-year-old rapper will take the stage this summer (Sun. Jun 6) at Hot 97's annual Summer Jam concert alongside Nicki Minaj, Usher, Drake and more.
Gucci was given a 12 month maximum prison sentence for violating his probation back in November and was released 6 months early for good behavior.
Meanwhile, All Hip Hop is reporting that Gucci has officially split from his former booking agency Hitt Afta Hitt Enterprises and management company Mizay Entertainment, headed by Waka Flocka Flame's mom Debra Antney, who was also recently fired from rapper Nicki Minaj's management team. He has also closed down his So Icey Entertainment imprint and is now the President and CEO of 1017 Brick Squad Records Inc. In addition, Gucci's former management and booking agency are named in a number of federal lawsuits for booking Gucci Mane in several dates throughout the country without notifying club promoters that the rapper was headed to prison for up to a year.
The artists on Gucci's new label are Wacka Flocka Flame, OJ Da Juiceman, Bricksquad (Wacka, OJ and Gucci) and Gucci Mane himself.
"The rest of 2010 is going to be real major," Gucci Mane told AllHipHop.com in a statement May 4th.  "I'm taking control of all of my business properties and keeping the focus on my career, my music and my artists. All the pieces to the puzzle are finally in place and once I get home it's Gucci time."

Gucci Mane also has a new management team to handle his career now that he has parted ways with Mizay Entertainment. The rapper has entered into an exclusive management deal with First Avenue Management, while CAA will now handle the booking of his shows. He also named David Bolno, Managing Director at Nigro, Karlin, Segal & Feldstein as his new his new business manager.
Be the first to receive breaking news alerts and more stories like this by subscribing to our mailing list.