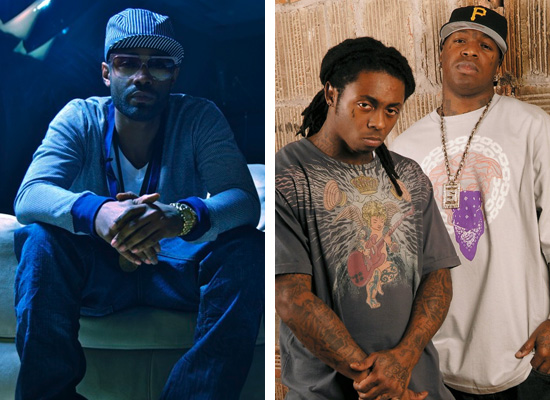 Grammy award-winning producer Shondrae "Bangladesh" Crawford is pissed at the fact that Lil Wayne has yet to pay him his royalties for his work on "A Millie," one of Wayne's biggest and most popular records of all time. So he's taking him and his bosses to court for $500,000!
"I don't fuck with [Lil Wayne]… and you can print that," Bangladesh told VIBE, when asked if fans should anticipate a reunion come his 2011 release. "Cash Money don't pay royalties. The Carter III, [is] his biggest album probably because of 'A Millie.' [But] you have to sue these guys so that they pay up." The Atlanta beatmaker disclosed that he is suing for an estimated 500 Gs in owed royalty checks for his work on "A Millie," one of Wayne's most revered records of all time. A single that earned him Best Rap Solo Performance at the 2009 Grammy's and gave The Carter III ammunition to sell a million records it's first week of release in June 2008.
"It's [Wayne and Baby's] responsibility to pay [me] because all the money from album sales goes to Cash Money. I get checks from Sony for Beyoncé, checks from different labels for different artists, it just comes to you. You don't have to call them, sue them and all that junk. This is what you're owed." He continues, "I don't really give a fuck about [Wayne]. I can't give a fuck about somebody that don't give a fuck about my situation, I have kids. In the hood, people get killed for ten dollars. I couldn't imagine owing someone hundreds of thousands of dollars and just walking around in front of them. I'm so confident in myself, that I don't need Lil Wayne. There's gonna be so many opportunities. I can create a Lil Wayne."

A nominee for VIBE's Best Producer of All-Time, Bangladesh went on to explain the corrupted process of Cash Money, centering on Baby. "This is why Manny Fresh don't fuck with [Cash Money] because he never got any royalty money. That's why Baby can go around flaunting this cash, because that's everyone else's money… It's not even Wayne's fault. Wayne is not getting money. He is given money, he's not getting money. If Baby gets a million dollars he'll buy Wayne a Phantom, but that's in Cash Money's name. That 14-bedroom mansion isn't Wayne shit," he says. "That's why he have his own company, because he was trying to leave Cash Money and the only thing that would keep him there was [if they] gave him his own thing. But Baby still controls that. All those Young Money artists don't even know that they not getting royalty money."

SOURCE

Wow! Cash Money is operating their "business" like that?! That's definitely not a good look…
Be the first to receive breaking news alerts and more stories like this by subscribing to our mailing list.