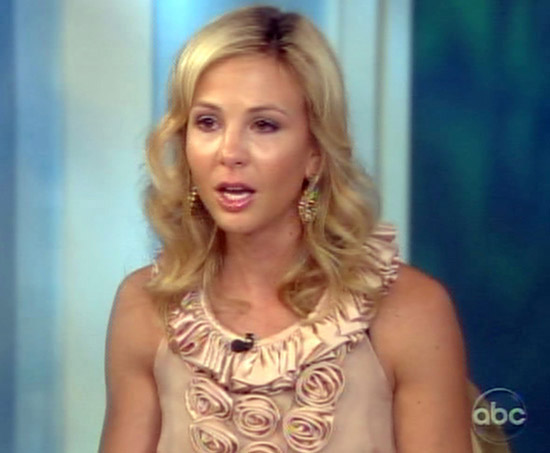 That crazy white lady from The View (Elisabeth Hasselbeck) has put her foot in her mouth. Hasselbeck is apologizing for offending "Dancing With the Stars" contestant Erin Andrews with comments she made on the show. She even cried a little.
On Tuesday, the football player's wife commented on the convicted stalker who peeped at the sideline reporter through a hotel-room keyhole, filmed it and placed the clip on the Internet. In effect, the conservative Hasselbeck was making the point that Andrews' revealing outfits on "Dancing With the Stars" could have saved the stalker the jail term because he would have seen nearly as much.

The point was deemed ill-advised by many, including Hasselbeck herself a few hours after the show's taping. The former "Survivor" contestant said on Wednesday's show that she left work feeling badly about the comments, and her 5-year-old daughter explained to her why she should apologize.

"She's so cute; she said to me, 'Mommy, why don't you just call Erin and tell her you're sorry?,' " Hasselbeck reported on "The View" Wednesday. "So, thankfully, I listened to her — she's a wise little girl — and I did. So, I'm really sorry, and I wanted to offer that publicly too, even though I did follow that advice."

For Andrews — who has waged a very public, very emotional battle against the stalker and additional threats — the comments of Hasselbeck were an insult. "[It's] a slap in the face to victims of stalking and sexual predators," Andrews said after Tuesday's "Dancing With the Stars" results show. "[As a] woman, I'm disappointed she went there."

MTV NEWS
Continue reading to peep video footage of Elisabeth's teary apology…
Be the first to receive breaking news alerts and more stories like this by subscribing to our mailing list.