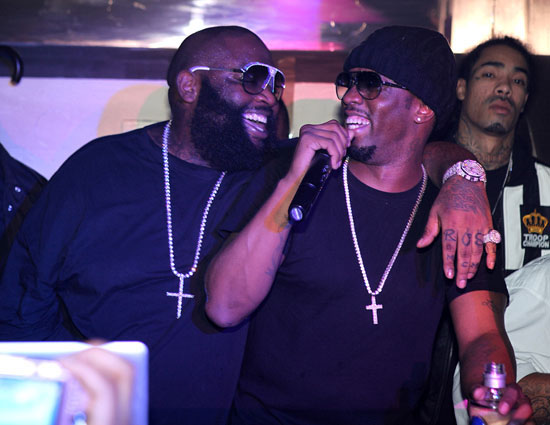 As you should already know by now, Diddy has taken over as the manager of both Nicki Minaj and Rick Ross. And Ross recently spoke to MTV about his new partnership with Diddy and how it came about:
"The experience and the knowledge that Diddy possesses is priceless," Ross explained on the set of his upcoming video for "Super High."

"The relationships that he's accumulated over the last 20 years is priceless for a young artist such as myself. We developed a mutual friendship. We just stayed in contact. I was calling him for advice anyway. He was doing it for free: 'What you think about that, homey? Help me get this, homey. I need to meet for the Waka Flocka video, homey.' He was doing so many different things for me on that level."
Here's what Diddy has on the agenda for Rick Ross:
"I expressed my interest in developing and designing my own clothing label," Rick Ross said. "I expressed interest in branching off into liquor endorsements, book deals. I've yet to headline my own major tour yet, which I've never had a problem with, because I love the intimacy of clubs. I love when I can run in the club with 2,000 people in there, and I can look the majority of them in the eye and make sure they feel Rick Ross and understand what Rick Ross brings to the game. But most definitely, these are the new things we're bringing to the table, and these are things I haven't expressed a lot of interest into in the past. It's looking very, very positive."

SOURCE
We're still on the fence about this whole Diddy managing Rick Ross and Nicki Minaj thing but it will definitely interesting to see how it develops over time. Don't get us wrong, Diddy is a great business man and all but his recent track record with taking over people's careers hasn't fared too well. But who knows, maybe things have changed! We'll see…
Be the first to receive breaking news alerts and more stories like this by subscribing to our mailing list.