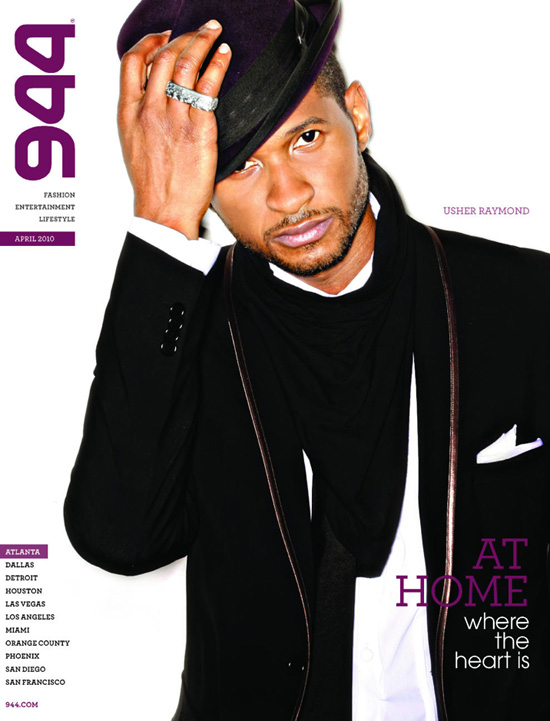 Usher is featured on the cover of 944 Atlanta Magazine's April 2010 issue and in his interview, the R&B singer discussed several things and once again, denied that his new project Raymond v. Raymond and the album's buzz single "Papers" is about his divorce from Tameka Foster. Peep an excerpt from the issue below:
On Raymond's controversial single "Papers," Usher, now 31, appears to blame the disconnection from his mother Jonetta Patton (she managed him until he relieved her of the position two years ago), and recent career problems, on his relationship with Tameka Foster, even though he says the song isn't a direct reflection of his life.

"We were still happily married when I recorded that song. It was just a creative thing," he says, calling from Los Angeles. Now divorced – it was finalized in 2009 – the two share two kids (Usher V, 2 and Nayvid, 1). "By no means did I mean to disrespect Tameka. I appreciate all of the times we had. It's a difficult situation. But, we are raising two children together. We are forever linked."

The title of his new project suggests a window into the dynamics of the former relationship, but Usher views it differently. "People just assume that Raymond v. Raymond means Usher versus his ex-wife," he says. "But it is a personal evaluation. We are our own worst enemy, and we are our greatest supporter at the same time."
The R&B singer hit up iHeartRadio recently and performed a new track from his new album "There Goes My Baby" live on stage. Peep the performance after the break…
Be the first to receive breaking news alerts and more stories like this by subscribing to our mailing list.