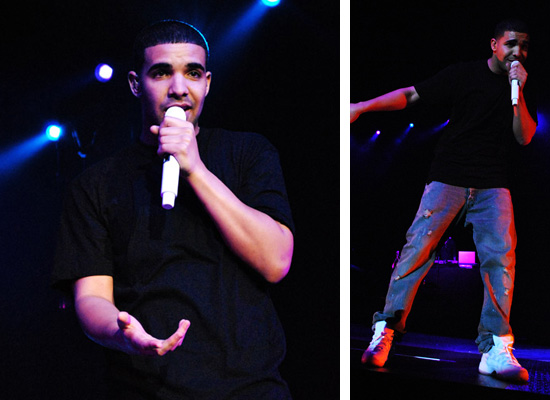 Drake paid a visit to the Furman University campus in Greenville, SC last night (Thurs. Apr 22) to perform for his "Away From Home" Campus Consciousness college tour.
The Young Money rapper performed at Furman University's Timmons Arena and Gossip On This was in the house as he performed series of hits from his recent collaborations like "Every Girl," "BedRock," "Money to Blow," "I Invented Sex," "Say Something," Successful" and more. The 23-year-old recording artist's set also included a few tracks from his So Far So Gone mixtape and upcoming debut album, including "Best I Ever Had," "Fireworks" and his latest single "Over," which closed out his 75 minute show, which is a pretty good amount of time considering his album isn't even out yet and more than half of his set only included songs he's been featured in.
Drake opened the show with one of his break through tracks "Forever" and went into "Unstoppable" before formally introducing himself to crowd, filled with mostly young college-aged men and women, and the ladies who would shriek whenever he winked his eye or licked his lips. Or did both of them at the same time. At one point in the show, he brought one of these young women on to the stage for a quick dance/serenade. "You might get rubbed, you might get sucked on… licked on…" he said before picking a girl out of the audience.
Throughout the evening, the Lil Wayne protege, who announced "Free Weezy" several times in his set, let his fans know who he mostly catered to: the women. At several points throughout his show, he'd stop for a minute (or several minutes) and speak to the ladies telling them how beautiful they were and would feed them line after line, and it made them melt! Dude had these women at his beck and call; and we mean literally. Later, he brought out his "mic stand," covered with panties from ladies who've thrown them on stage nights before and he literally gave the girls permission to add to the collection. And about 3 or 4 of them promptly followed through with Drizzy's request.
Check out 15+ pictures from Drake's concert in Greenville below…
PHOTOS: DUSTIN GARY FOR GOSSIPONTHIS.COM
Be the first to receive breaking news alerts and more stories like this by subscribing to our mailing list.