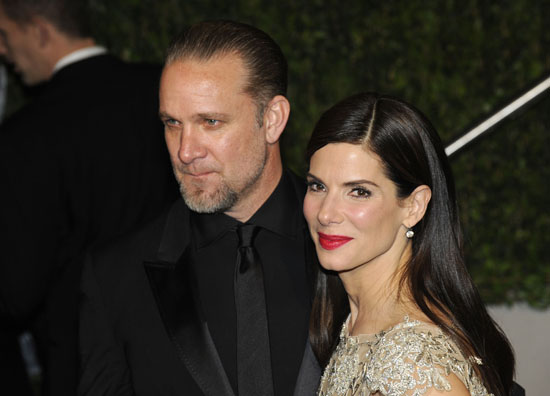 Oscar winning actress Sandra Bullock has been keeping a very low profile ever since news of her estranged husband's sex scandal broke about a month ago. And she was spotted for the first time since Jesse James' infidelity was made public as she went on a hike in Northern California …and there was no wedding right in sight, so we all know what that means.
Now we're getting word that she's preparing to fight back after months of suffering embarrassment after discovering that her husband Jesse was cheating. A source close to the Academy Award winner spoke to our friends at PopEater.com:
After disappearing since her husband's sex scandal broke last month, Sandra Bullock is finally ready to face the world and her husband Jesse James again. "She needed time away to sort everything out by herself," a friend tells me. "Now, she is ready to stop hiding and start fighting back."

Sandra, who has been seen hiking in Northern California without her wedding ring and looking somber, is expected to file for divorce later this week. "It's over between Sandra and Jessie. For a while, it looked like she was going to forgive him but not now," a friend tells me. "But way too much has happened and after spending time alone, Sandra has realized that she deserves better. It's not going to be easy but she's an amazingly strong lady. Don't worry, she will survive."
Meanwhile, Pop Eater also says that Sandra will be giving her first interview since the scandal to her good friend George Lopez this November on his late night talk show "Lopez Tonight."
"I think George is a great friend of hers and he's been very supportive in her time of need. Like any BFF, she's going to be there for him and she knows she can trust him to not talk or ask about anything awkward," explains Bonnie Fuller, editor-in-chief of HollywoodLife.com.
Be the first to receive breaking news alerts and more stories like this by subscribing to our mailing list.