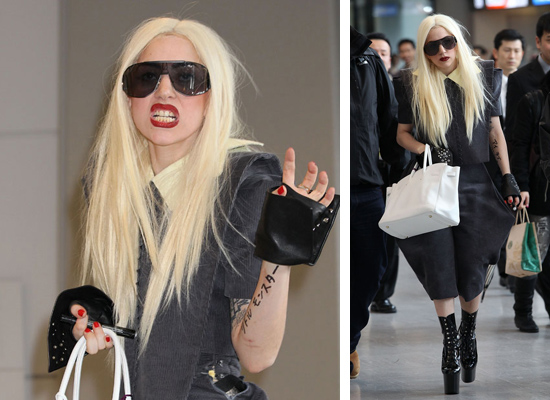 Flanked by her security, Pop singer Lady Gaga showed the paparazzi her "Teeth" as she arrived at the Narita International Airport earlier today (Tues. Apr 13) in Narita, Japan. Peep a few pics below…
Gaga recently wrapped a month-long tour in Australia and will now take her "Monster Ball Tour" to the Japanese cities of Kobe and Yokohama before heading back to Europe in May. The 2nd leg of her North American tour begins at the end of June in Canada, and will wrap at the end of September in North Carolina. So it's say to say that the "Telephone" singer will be a very busy woman throughout the next few months!
Meanwhile, the 24-year-old pop superstar has spoken out against having sex … for now at least. Continue reading to see her viewpoints on why she wants her fans to be celibate just like her.
"I can't believe I'm saying this — don't have sex. I'm single right now and I've chosen to be single because I don't have the time to get to know anybody," she said while visiting England to help promote MAC's Viva Glam campaign, which supports global HIV and AIDS projects. "So it's OK not to have sex, it's OK to get to know people. I'm celibate, celibacy's fine."
Gaga said her celibacy is something she wants to "celebrate" with her fans, extending her oft-repeated message to her "little monsters" that they should be secure in their own skin and not shy away from being different. "It's OK to be whomever it is that you want to be," she said. "You don't have to have sex to feel good about yourself, and if you're not ready, don't do it. And if you are ready, there are free condoms given away at my concerts when you're leaving! … I remember the cool girls when I was growing up. Everyone started to have sex. But it's not really cool anymore to have sex all the time. It's cooler to be strong and independent."

Part of the reason Gaga said she was sending the celibacy message was because of the steady rise in the rate of HIV infection among women worldwide, which has grown while the overall rate among men has continued to decline. "The rate of infection worldwide is higher than ever for women in our particular demographic," said the singer, referring to women aged 17-24 and 38-56, the bracket of her partner in the campaign, 56-year-old '80s pop star Cyndi Lauper. "Part of the problem is that women in those groups are not getting tested. … This is a disease that affects everyone, not just the gay community, and right now it's mostly affecting women."

Gaga realizes that her fans idolize her, as evidenced by the legion who arrive for her concerts dressed in Gaga drag and who post countless homages to her high-concept videos online. "When you're in the public eye, you're a role model whether you want to be or not. And I want to be," she said. "I'm not one of those self-obsessed artists who don't care about their fans. It's not just about the music."

MTV

Be the first to receive breaking news alerts and more stories like this by subscribing to our mailing list.