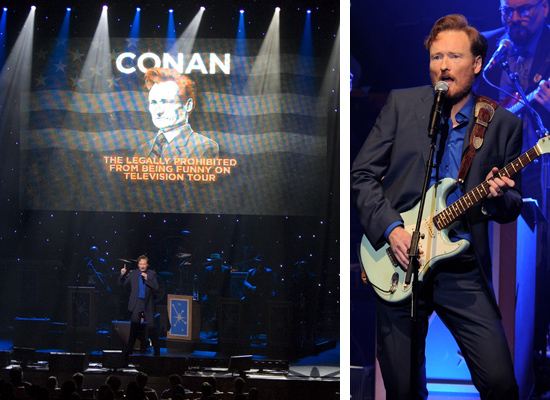 TV personality Conan O'Brien kicked off his "Legally Prohibited From Being Funny On TV Tour" last night (Mon. Apr 12) at the Hult Center for the Performing Arts in Eugene, Oregon. The former "Tonight Show" host rocked a beard as he performed a "high energy show" in front of thousands of his fans for about 2 hours. He even played a little guitar for his "Team Coco" supporters.
During his encore, the rockabilly number "Forty Days," Mr. O'Brien bolted the stage, guitar in hand, and waded up the aisles. On his way back, he stopped by a female fan with outstretched arms and planted a kiss on her. A few steps farther down the aisle, a young man of about 25, two seats in, leaned out and ostentatiously offered his own cheek for Mr. O'Brien to kiss. He was accommodated. As Mr. O'Brien continued down the aisle, the young man's friend said, "Now you can't wash that cheek." The fan replied, "Now I can die happy."

The show was more a raucous variety and vaudeville act than stand-up performance, though Mr. O'Brien — in a red beard that was neatly trimmed, but not as trim as the comic himself, who looked slimmer than at any point in recent memory — did deliver an opening monologue. But he also sang with ferocity, blasted away on three separate guitars, and danced with reckless abandon at several junctures.

NY TIMES
In related news, Conan recently landed a deal with TBS where he will develop a show to replace "Lopez Tonight," moving George Lopez' show to midnight, instead of its current 11 PM position. Read all about that here and continue check out a few pics of Coco performing on the opening night of his new tour below…
Be the first to receive breaking news alerts and more stories like this by subscribing to our mailing list.