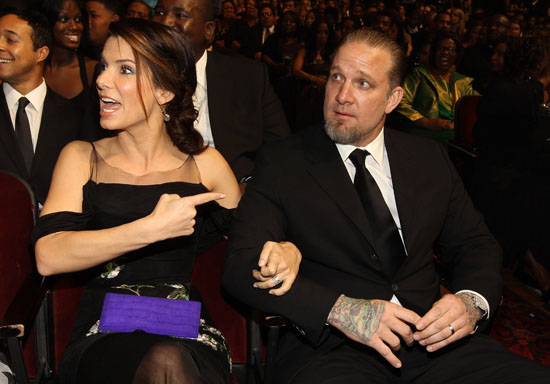 The drama surrounding Sandra Bullock and Jesse James' relationship continues to get worse and worse. RadarOnline.com is reporting that there is indeed a sex tape starring Jesse James and quite possibly his wife, Sandra Bullock.
The tapes Jesse made with other women are shocking. "Most of the tapes feature a mass amount of Nazi paraphernalia," an insider tells RadarOnline.com. "It's all really quite disturbing." A source who saw one of the tapes spoke to RadarOnline.com on the condition of anonymity and gave a partial description. "What I saw was a naked woman on her knees and Jesse in a Nazi hat waving his arm in a salute," the insider said. "It looked like the woman's hands were bound.

"He was shouting and singing and appearing to swig from a bottle of bourbon every now and then." RadarOnlne.com has learned that none of the sex tapes are up for sale but that they are also not in a completely secure location. "They could end up being made public just like the photo of Jesse giving the Nazi salute," the insider said. "There's no doubt some of these tapes could leak and end up on the Internet."
And since the release of this juicy bit of info, the suddenly always silent Sandra Bullock has quickly addressed the chatter about the possibility of a sex tape between herself and her estranged husband:
"There is no sex tape," she says in a statement to PEOPLE on Tuesday. "There never has been one and there never will be one."
We hope that she is telling the truth. If this video does actually exist, you can best believe that it will eventually leak. And that won't look too good for her good-girl image…
Be the first to receive breaking news alerts and more stories like this by subscribing to our mailing list.