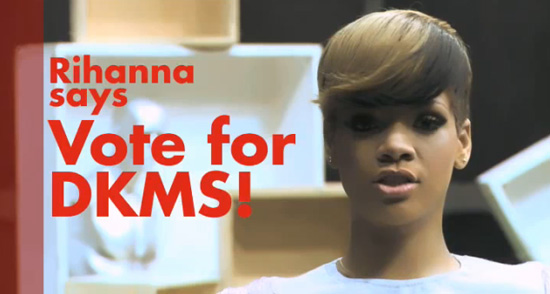 Rihanna is using her platform as a mega superstar to raise funds for a great cause. The singer is dedicated to making people aware of children with leukemia. Rihanna's foundation, the Believe Foundation, has partnered with DKMS (the world's largest marrow donor center) to win a $250,000 Pepsi grant, which would allow DKMS to register 4,000 bone marrow donors. DKMS' mission is to save lives by recruiting bone marrow donors for leukemia patients.
As a continuation of her ongoing philanthropic efforts, RiRi is personally campaigning for her fans and people around the world to join the fight against leukemia by voting for DKMS to receive the 250K grant which will be awarded to one deserving organization at the end of the month.
Rihanna stars in a public service announcement for DKMS and urges people to vote for the deserving organization. Peep the video below…
"I've learned the hard way that anyone can be affected by leukemia," Rihanna shares in the PSA. "It is a disease that does not discriminate amongst age, race or gender. It is the number one disease children in the U.S. die of and it is particularly hard for minorities to find a match because they are underrepresented in the national registry. Sadly only seventeen percent of African Americans in need of a transplant will receive one. Join the fight against leukemia and vote for DKMS."
Be the first to receive breaking news alerts and more stories like this by subscribing to our mailing list.