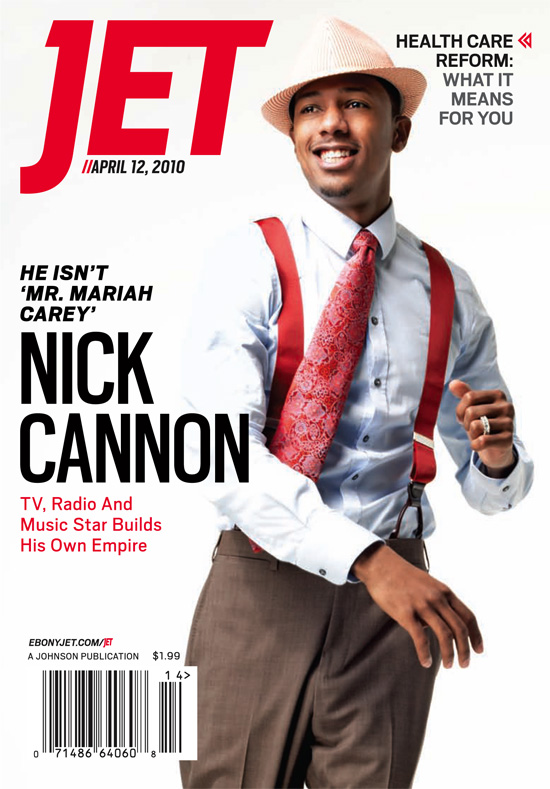 Mariah Carey's husband Nick Cannon doesn't want you to call him "Mr. Mariah Carey" anymore. He talks about all of this and how he's rich, even without being Mariah's other half in the April 12th issue of JET Magazine, which hit stands nationwide yesterday (Mon. Apr 5).
Nick Cannon laughs when people call him "Mr. Mariah Carey," even though he's been married to his wife, Mariah, for two years now. The self-professed "entrepretainer" – an entrepreneur first and entertainer second – is certainly accomplished in his own right. He became a millionaire at 15 and is the CEO of his own multi-media company, NCredible Entertainment and chairman of the Teen Nick television network. "That type of stuff is humorous to me," he tells Jet. "If I were an insecure individual or if that was true, that type of statement – that I'm a 'boy toy' or 'yes man' and all that type of stuff – would bother me. But anybody who knows me or talks to me for five minutes knows clearly that's not the picture."
We feel ya Nick. We see you out there doing your thing! From now on, we'll try to make sure we give you a little more respect and call you Mr. Nick Carey instead… LOL!!
Be the first to receive breaking news alerts and more stories like this by subscribing to our mailing list.