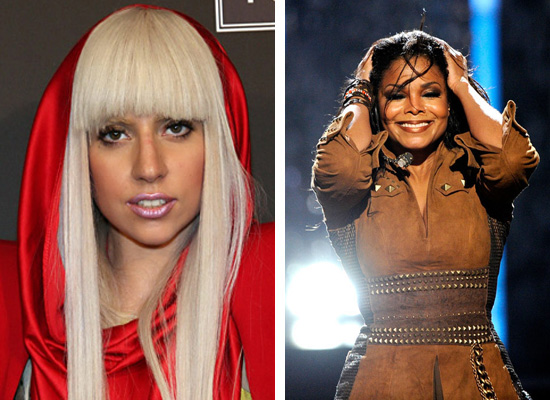 While on the promo trail for her new movie "Why Did I Get Married Too?," singer/actress Janet Jackson spoke to MTV News and told them how much of a sweetheart pop newcomer Lady Gaga is, but she admits that she's a bit worried about Gaga's work ethic, considering she passed out a few times while on stage in New Zealand last month (Mar 2010).
Jackson tells MTV, "I really love GaGa and she's a sweetheart. It's not always the case when you meet them (superstars). You can enjoy their work, but it's not always so pleasant when you get to know their personality, and she truly is a sweetheart. "She's definitely doing something different and I love that."

Jackson says, "She works so hard and I told her I think she needs to slow down just a little bit, take some time out for herself." Jackson's advice comes a week after OneRepublic frontman Ryan Tedder warned his pop pal to "be careful" not to burn herself out. GaGa blamed the health concern on a lack of sleep, saying, "I was so jetlagged, I got in the night before and the jetlag just really caught up with me. I passed out about three times on stage that night but I got myself to the floor. I'd rather die on stage than walk off the stage because I was going to pass out… It's never happened to me before, I was just really tired."

CONTACT MUSIC
Despite these warnings from her industry colleague, Gaga is still pressing forward with a North American tour this summer and a new album later this year, which means more promotional tours and possibly another world tour by mid-2011.
Do you think Lady Gaga needs to slow down?
Be the first to receive breaking news alerts and more stories like this by subscribing to our mailing list.