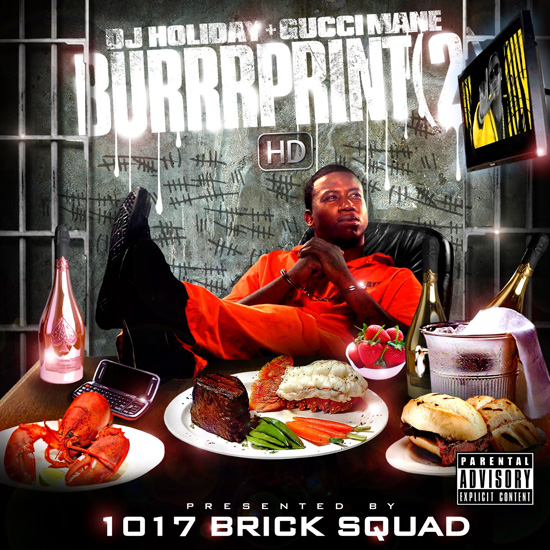 A little jail time isn't stopping rapper Gucci Mane from releasing a brand new mixtape on April 13th. Gucci, who is currently in jail for violating his probation, didn't want his fans to miss him too much while he serves his time, so he rapped tracks a cappella for the upcoming mixtape over the phone. Gucci's right hand man in all of this, DJ Holiday, spoke on Gucci and the new mixtape, titled BurrrPrint 2HD. His camp hopes that this will tide over until Mr. LaFlare is sprung from prison.
"It's the warm-up before Writing's on the Wall 2," Holiday said of The BurrrPrint 2HD. "I talk to him every other day. His spirit is up. He's 1,000. He called me to get an update of what's going on in the city. My tapes is crazy. Waka is the hottest thing out here. Nicki is on fire. He was like, 'You think they miss our tapes?' I was like, 'Hell yeah.' He said, 'Let's do something. [But] you know I can't move like I want to.' I said, 'Let's knock it out on some over-the-phone sh–.'

"They gonna really f— with the mixtape, because he's really rapping on the tape from the phone," Holiday continued. "We matched up a beat with Drumma Boy, and [Gucci] rapped on it. But he rapped a cappella over the phone, and we matched up the beat to it in the studio. It's f—ing bananas. I thought it was creative. You know how Shyne was locked up and you'd get a freestyle from the phone? I said, 'Let's take it another step.' We recorded him rapping on the phone in the mic … and went from there. Then we matched it with the beat Drumma Boy made. It came out crazy, and it sounds good too."

"New Gucci Mane mixtape is going to be crazy!!!" Drumma Boy said. "Gucci kept tellin' me how much of an impact he wanted to make with this mixtape, and with him being incarcerated, we had to be very creative in how we got this done. One of my favorite records and most difficult records that I've ever produced was BurrrPrint 2 off the mixtape. He called me one day I was in the studio making beats, and he told me he had written some new verses and wanted me to hear them. So I stopped doing what I was doing to listen. After five seconds of listening, I was like, 'Stop. I'mma record you while you rap through the phone.' I recorded his verses but later realized that there was no consistent tempo. This means I had to chop up each word for word to punch into tempo, which took me about five to six hours. After I had lined up his verses, I then began to add music around the verses, structure the build, and then create a hook that matched the intensity of his verses. Overall, I spent a good two days producing that record, and it's a great feeling to see people's reactions after them finding out I produced the record of Gucci Mane through the phone."

The other records on BP2HD are unreleased records Gucci had in the stash.

"Anybody who knows Gucci, they know his work ethic in that studio is ridiculous," Holiday said. "I got 10 songs in one damn day. All brand-new records, bruh. Maybe one record you might know. Everything else is brand-new. One song is with Ludacris called 'Atlanta Is a Zoo.' It's a club banger. One song is crazy with Jim Jones. He's got another one with Rick Ross and Yo Gotti. Heavy features on there. It's a mixtape album. The label [Asylum] is going all out with it."

MTV NEWS
Be the first to receive breaking news alerts and more stories like this by subscribing to our mailing list.