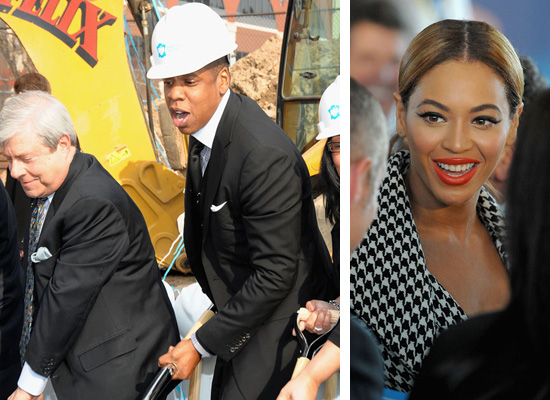 Rapper Jay-Z put on his hard hat as he participated in the ground-breaking ceremony of the controversial Barclays Center Atlantic Yards project last Thursday (May 11) in the Brooklyn borough of New York City. Jay's wife Beyonce was in attendance to "complement the deal," as she sings in her "Upgrade U" song.
The $4.9 million project, which will feature a basketball arena at the Atlantic Yards site, recently received the green light following years of delays and challenges in court. Community activists caused a stir when the project was formally announced a few years ago. Apparently, they were angry over the money the project is costing and the potential damage the increased traffic and pollution will have on the area, which sits next to a neighborhood.
Along with Jay-Z at the elaborate ground-breaking ceremony were New York City Mayor Michael Bloomberg, NY Governor David Patterson, Rev. Al Sharpton and more. Pics of Bey, Jay and Rev. Sharpton at the ground-breaking ceremony below…
Be the first to receive breaking news alerts and more stories like this by subscribing to our mailing list.