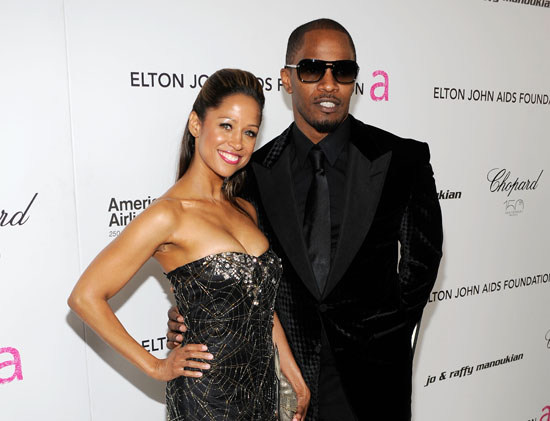 It seems like it was just yesterday when we saw Jamie Foxx put the moves on hot model/actress Stacey Dash by bringing her as his date to the recent 2010 Academy Awards. Well it appears that he fell so hard for this chick that he has decided to give Ms. Dash her own show on his XM/Sirius radio station The Foxxhole. We're getting word that Stacey is basically taking TV personality Claudia Jordan's slot.
Do we see a pattern going here with Mr. Foxx? It has been rumored for years that Claudia Jordan and Jamie Foxx were getting it in, and that eventually lead to him giving her a 1 hour show. And since Jamie and Stacey's Oscar date night, we have been hearing that they are definitely getting it in, and have been seen together a lot around town, and now she is getting her own show. Things that make you go "hmmm….."
Anyway, if there was any doubt to the story of Dash and Foxx dating, peep this confirmation from the "Clueless" actress herself:
"I did his radio show The Foxxhole and after the show he said, 'Do you want to go with me to some parties Sunday night, Oscar night?' I was like, 'Oh, yeah, sure'. And then he texted me and it was for real", the 44 years old actress said. "He sent a car for me and then I picked him up. He wasn't ready though. His family was there. It was all very, very wholesome. A real first date. We're friends. We like each other. He's a nice guy", Dash added.
Be the first to receive breaking news alerts and more stories like this by subscribing to our mailing list.