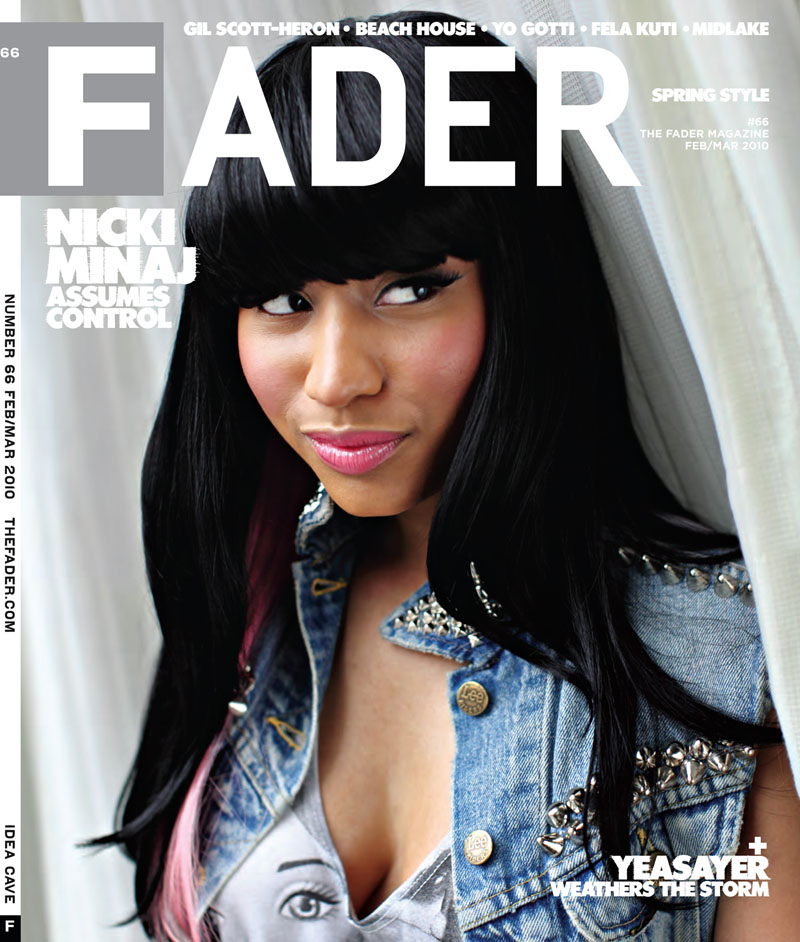 The hottest up and coming female rapper of the moment, Young Money's Nicki Minaj, is featured on the cover of the February/March 2010 issue of The Fader Magazine, available for download now at Fader's official website.
In the issue, Nicki talks about a lot of things, including her eccentric rap style and how it reflects her true personality.
"Anybody that knows me knows that I have a very, very bipolar personality, so one minute I'm excited and the next minute I'm crying and the next minute I'm cussing and yelling and the next minute I'm singing Enya. I'm not kidding. And the point is, my rap style now reflects my true personality. Because I am so weird."
She also touched a bit on how she felt on being labeled a "sex symbol" and why she always makes those crazy azz faces…
"I don't know where I fit in the spectrum of rap yet," says Minaj. "I think now I'm kind of proving myself, but before, people thought I was more of a sex symbol or a wannabe sex symbol—and I never wanted to be a sex symbol. Now they're seeing. That's why I make the goofiest faces, I don't want people to think I'm up there trying to be cute. I'm trying to entertain, and entertaining is more than exuding sex appeal. I don't think that's fun. I don't find it fun watching someone trying to be sexy. It's wack. I'm trying to just show my true personality, and I think that means more than anything else. I think when personality is at the forefront, it's not about male or female, it's just about, who is this weird character?"
Check out outtakes of Nicki Minaj in the latest issue of The Fader Magazine below…
Be the first to receive breaking news alerts and more stories like this by subscribing to our mailing list.